LawMate is a Taiwan manufacturer of professional equipment for covert surveillance and counter-surveillance.
Recognised as reliable equipment last several years LawMate has been increasingly penetrating European market in all niches starting from police law enforcement forces, army forces, government secret, and special services all the way to private sector through investigation agencies, security, and VIP/Executive protection agencies.
LawMate Law Enforcement grade quality matches far more expensive professional products from other manufacturers while remains fairly accessible with price not far from the range of consumer "spy gear". That is what makes LawMate equipment a recognised choice for professionals either as an everyday tool or reliable backup equipment due to its accessible cost.
In the year 2013 and onwards Lawmate is starting to expand its range also towards Home Surveillance products that are starting to be accepted in USA and Europe as a quality choice for covertly monitoring what is going on when homeowners are not present.
Many products such as remote controller DVR was originally produced by LawMate and later copied by other manufacturers. However, when compared side by side differences are obvious and they become more apparent the longer two products are used
LawMate equipment can sometimes be found integrated in other manufacturers products or sold by other names.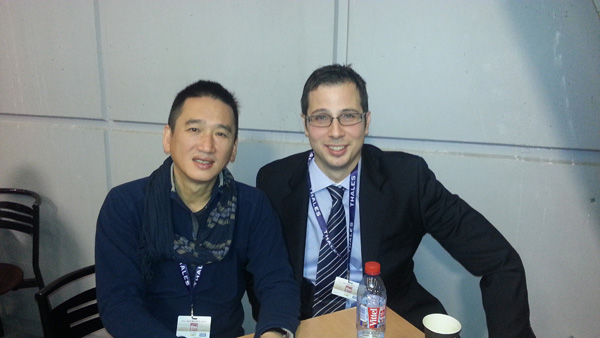 Image: Sabar Yang from LawMate, Taiwan with Damir First from Beling, Croatia after the year 2014 Lawmate product portfolio presentation and discussion (in Paris, 2013).
Our relationship with LawMate
We started to work with LawMate in the year of 2004 distributing not yet as recognised models of DVR and camera products. Since then as an authorised distributor we have continued to work on many projects together. We would like to think that we have contributed to the advancement of several products during that period based on our personal and the feedback of our customers.
2010 we have opened web-shop Spy Shop Europe with an extensive list of LawMate products from DVRs and Spy cameras to wireless and counter surveillance equipment. (over 50 LM models on stock).
From the year 2011, we have tightened our relationship and have become Exclusive LawMate distributors for countries on the territory of Ex-Yugoslavia.
In the following years, we have expended the exclusive distributorship to Italy as well as Germany becoming the largest Lawmate distributor in the European Union and premier supplier for the sub-distributors in the region.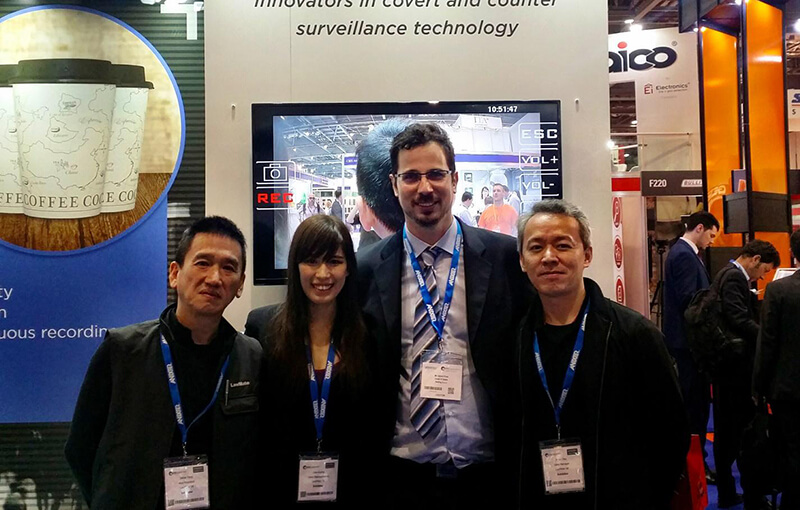 Image: Beling Manager Damir First with LawMate International Vice President Sabar Yang, Sales Manager Peter Chio and Sales Representative Lisa Huang.
Additional information about Lawmate Products/Ordering
If you need additional information regarding the functions or operation of LawMate products that are not described on this website, feel free to contact us at info@spyshopeurope.com
If you are interested in ordering LawMate products, feel free to use our secure online credit card processing, PayPal (orders made by 13 h get shipped the same day), or send us an e-mail at sales@spyshopeurope.com and we will respond latest the following working day.
What we offer:
Cheap DHL Express Shipping Worldwide as well as Free Shipping Deals
Fast 24-hour delivery in Europe & a couple of days Worldwide
Response to product requests within one working day
Firmware, manuals and other documentation support, such as CE certificates
All products are imported into the EU
24 months warranty and service after this period
Competitive prices
---
LawMate Equipment Product List
The categories of LawMates product range varies from standalone mini Digital Video Recorders, to covert recorders for indoor and outdoor purposes. The product palette expanded in the last years as Wi-Fi and IP product were introduced across categories.
Below you can see a full list of the product range.
Standalone Mini DVRs
Portable Covert DVRs
Portable non-covert DVRs
IP Remote Recorders (You can see the Live feed from the DVR from anywhere in the world with internet connection via App!)
Wi-Fi Direct Recorders
Home Surveillance Covert Digital Video Recorders
Car Surveillance Covert Digital Video Recorders
Covert Analog Camera Range includes
Digital Cameras range includes
Mobile Networks Signal and RF Signal Detectors
1.2GHz & 2.4 GHz RF transmitters and receivers
Audio Recorders
Accessories
The following LawMate Products have been Discontinued from Production:
PV-500 ECO, PV-500 EVO, PV-500 LITE, PV-500 L2, PV-1000 (160GB), PV-1000 Touch 320GB, CM-SS40, CM-SS10, CM-SS20, CM-SS22, PV-RC200, PV-RC300+, CMD-BU13, CMD-ER13, TM-120500-LM, CM-SS42, PV-AC10, PV-AC20, PV-AC35, PV-500EVO2, PV-1000Touch, CMD-BU13LX, CMD-BU20, WCH-350X, GM-GV3, PV-RC200HD, PV-FM10, PV-TM10, TD-2405, TD-1205, TM-120500-LM, TB-1255/ CM-SS42/PV-AC30/PV-1000Touch/PV-500L2, RX-1260, TD-1218, TM-121800, TB-1251DUO, TB-2451DUO, MD-30, MJ-30, WCH-250X, PV-FM20, CM-SG20, GE-40S, PV-BX12, CMD-BU13LXU, BU-18, CM-DC10 (PAL), PV-50U, PV-50U KIT, PV-900FHD, PV-RC400FHD, PV-500L3, PV-IP6HDW, PV-IP7HDi, PV-IP6HDi, PV-WS10, PV-1000Touch5U, PV-500HDW, PV-500HDWPro, BU-18HD Button, BU-18HD Cone, NT-18HD, HB-18HD, PV-500EVO2U, CMD-BU20U, PV-LD12, NT-18Neo, HB-18Neo, BU-18Neo Cone, PV-RC300 Mini, HT-18 NTSC, HB-18 PAL, PV-1300W, PV-50HD2W, PV-BC10, PV-AC20FHD, PV-RC200HDWi, PV-CHG20i(Droid), PV-UC10i, PV-EP10W, PV-AC30(PAL), PV-EG20CL/PV-EG20DL.
Your SpyShopEurope Team.