The ER-18HD is a law enforcement grade head-cam that comes in 1080P and is compatible with Lawmate's Wi-Fi DVR's.
The head-set cam is compatible with the
PV-500HDW
and
PV-500HDW Pro
DVRs, and offers a 141° angle of view. It is water resistant and comes with a set of accessories for mounting on your helmet or vehicle.
As the camera is compatible with the Wi-Fi DVR series, it allows you to monitor, set up and download the video and photo material via your Android or iOS smartphone.
ER-18HD Main Features:
Lightweight digital Full HD 1080P camera
Angle of View 141°

Body-worn camera and/or traffic recorder that comes with an all purpose camera mount
Comes with cable kit for different applications
Instant recording wire controller and segmented wiring design to avoid neck strangle in action
Water-Resistance
LED indicators
One button operation
PV Cam Viewer App can send a notification to your mobile phone once a motion is detected
Compatible with:
- Powered by the DVR.
ER-18HD Full Specifications:
Video Resolution: 1080P
Sensor resolution: 2000 * 1121
Pixel Size: 2.8um (H) * 2.8um (V)
Digital Picture Resolution: (H) 1920*(V) 1080
Built-in image sensor: Progressive 1/2.9 inch SONY CMOS
Illuimination Sensitivity: 0.03 Lux @ F2.0 50IRE
Lens: F/No F1.8
Angle of View: 141°
Depth of Field: 50 cm ~ ∞
Electronic Shutter: 1/8 ~ 1/30,000
Video Output: I2C Data
Power Supply Voltage: DC 3.3 V ± 5%
Power Supply Current: 220 mA
Operating Temperature: -10℃ ~ 60℃
Operating Humidity: 20 ~ 90%
Storage Temperature: -30℃ ~ 80℃
PV-CAM iOS and Android apps for Lawmate Wi-Fi Recorders: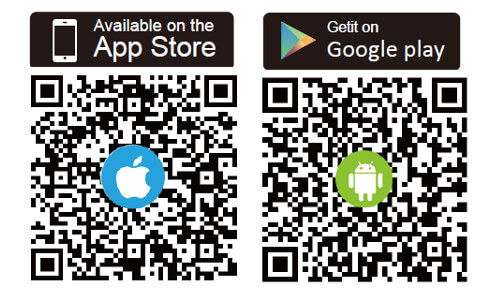 Google play link:
App Store link:
ER-18HD Feature Focus
Camera Mount for Multiple Application
To ensure that you can wear the camera in multiple situations Lawmate has included the YSD-LP20H accessorie as shown in the picture below (also available in the accessories - tapes and velcros, head set, 2* mount clip). For a step to step guide on how to attach the mount to a helmet, please see the quick manual available for download below.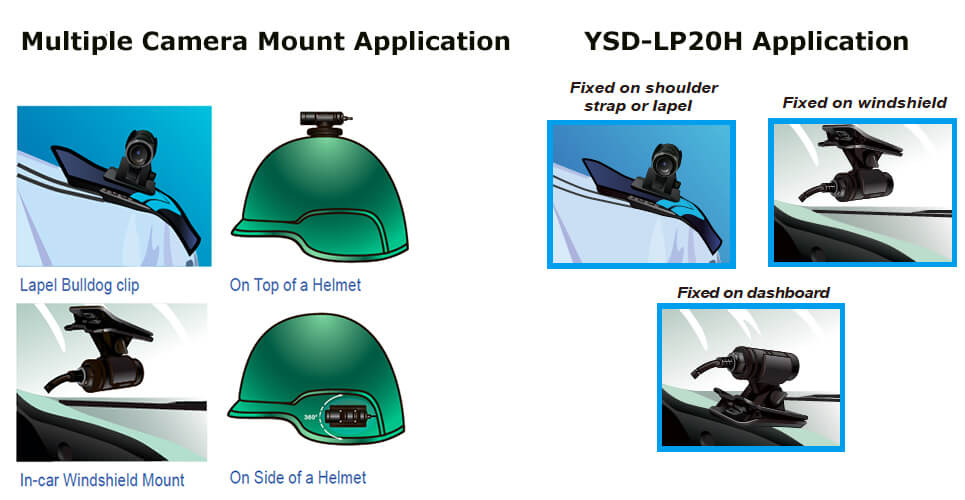 Illustration from Quick Manual - Click on Image to enlarge!
How to use the ER-18HD:
Power on / off the compatible DVR of your choice
When the DVR is powered on, the camera starts to record automatically. When DVR is powered off, camera stops recording at the same time.
Note: For a complete installation guide as well as function overview and usage, plase study the Quick Manual and Specification PDFs below.
24 Months Warranty