4th generation PV-RC200 recorder with a brand name Lawmate PV-RC200HD2 is a recommended solution for anyone that wishes to covertly record audio and video evidence.
PV-RC200 HD2 keyfob disguise for an A/V recorder is one of the favorite and easiest ones to use. An experienced person is no longer needed for making a recording since this device offers low sensitivity to dark conditions, HD resolution and new WDR sensor which makes it easier than ever to record any scenery – covertly.
Records sharp and detailed videos that makes things like letters, faces from further range, documents and other information much easier to distinguish.
New 4th generation PV-RC200HD2 recorder improves upon previous models on one important point - resolution, now provides FHD (1080P) resolution compared to HD (720P) resolution in the previous PV-RC200HD model.
---
Se siete nostri clienti italiani si può visitare il nostro sito Lawmate dedicato al cliente italiano e conoscere meglio Lawmate
PV-RC200HD2
in italiano.
Für deutschsprachige Kunden - Sie können unsere Lawmate-Website für deutschsprachige Kunden besuchen und mehr über den
PV-RC200HD2
in Ihrer Muttersprache erfahren.
---
PV-RC200HD2 Main Features:
Full HD integrated DVR recorder
New 5MP camera sensor that records much crisper and generally higher quality video recording as well as snapshots
WDR – wide dynamic range video recording
Integrated 650 mA high polymers battery
Integrated AGC microphone & audio recording (all LM DVRs from our webshop record audio)
Product Specifications:
Camera: 1/3" progressive CMOS sensor
Angle of View: 66 Degree
Video Resolution: 1920*1080@30FPS ; 1280*720@30FPS
Photo Resolution: 5MP
Lens: 4mm
Min. Illumination: 3.3 Lux @ F 2.0
Video File Format: MOV
Picture File Format: JPEG
PC Interface: Mini USB2.0
Time Stamp: YYYY.MM.DD./ HH:MM:SS
Vibration Alert: On/Off/Record/Photo/Low Battery
Charging Time: 3 hours
Battery Type: DC 3.7V / 650 mA high polymers battery
Working Hour Approx; 75min in 1080P / 113min in 720P
Memory Type: 8GB Micro SD Card (Supports up to 16GB)
Dimensions: 71*35*16mm
Weight: 32g
Feature focus:
Wide Dynamic Range:
PV-RC200HD2 features integrated camera that has an ability to capture wide range of contrast in the scenery that is being recorded.
It is usual for the standard camera to focus on a certain part of the image and adjust the overall brightness of the image to that certain part.
For example in a situation where you are recording a person and at the back of the person there is strong light, a standard camera that has no WDR function will darken the whole image in order to compensate the backlight. The side effect is that person and the person face will be very dark and usually undistinguishable thus defeating the whole point of making a recording that could be used as an evidence.
Same goes if a camera without WDR function focuses on the person face, which would then lighten up the surrounding of the person thus failing to place a person into any context besides a bright light.
PV-RC200 HD2 with WDR will make sure no part of the image is either too dark or too light. It will take into account all part of the pictures and adjust the contrast and brightness of the recorded video so all parts of the recording are clearly visible and easily distinguished.
Together with high sensitivity and HD resolution it makes PV-RC200 HD2 very easy to use compared to currently any other product on the market, with no need to worry about the general lighting and angle of the camera in order to produce reliable recordings.
Comparison: PV-RC200 HD (Left) vs PV-RC200 HD2 (Right)
- For a larger picture click on the small image -
Hardware switchable VGA/HD mode and Vibration ON/OFF
At the back of PV-RC200 HD2, two hardware switches allow modifications to the recorder when the user is already out in the field preparing for the recordings.
First switch of the PV-RC200 HD2 is used to set up to record either high-resolution HD recording or a lower resolution VGA recording that will provide more recording memory and slightly save battery.
Other switch is used to set up vibration confirmation of recorder functions whether it is turning the device ON/OFF, recording video or snapshots. (Suitable when sound or vibration created would not be appropriate in the situation)
Webcam
If needed PV-RC200 HD2 can be connected with a USB cable to any laptop or computer and serve as high quality webcam.
The operating system will automatically detect the device and install the necessary software.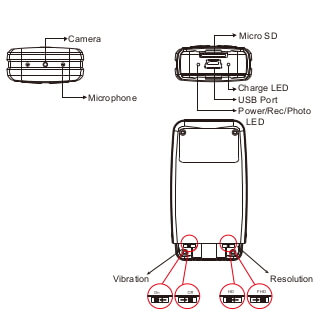 Illustration from the quick manual
PV-RC200 HD2 can be used by anyone:
Pre-set up:
Make sure to put empty and preferably formatted SD card into the device then:
1. Press the Power ON / Record button (first button) to turn the device ON
2. Press the Power ON / Record button once again to start the recording
OR
Press the Photo button (third button) to snap a picture
OR
Use both at once to snap picture during video recording
3. Press the Power OFF (second button) to turn off the device