The Lawmate HB-18Neo is a new digital Full HD 1080p CMOS Handbag covert camera that is compatible only with PV-500Neo & PV-500Neo Pro DVRs.
This lightweight 2MP covert camera can only be used with the new Wi-Fi digital video recorders. This comes with the advantage of live streaming, downloading video/photo materials and setting up the device via the PV-Cam App (for Android and iOS smartphones).
The microphone is built in, and it is a single cable design camera which means there will be less risk of accidental signal loss.
If you are looking for an analog Handbag camera, check out the
HB-19
(CCD, Min Illumination 0.05 Lux).
HB-18Neo Main Features:
2MP CMOS covert handbag camera
1080p, 0.03 Lux@ F2.0(50IRE) low light sensitivity
Self-contained invisible microphone
Single cable design
Lightweight
78 degrees angle of view
Compatible with PV-500Neo & PV-500Neo Pro
Live streaming on your iOS / Android smartphone via PV Cam App
Instant download of video/photo materials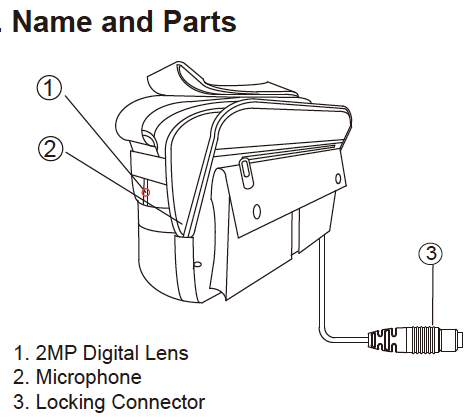 HB-18Neo name and parts from illustration.
Lawmate HB-18Neo Full Specifications:
Built in Image Sensor: 1/2.9" progressive CMOS Sensor
Sensor Resolution: 2000x1121
Pixel Size: 2.8um(H) * 2.8um(V)
Digital Picture Resolution: (H)1920x(V)1080
Sensor Sensitivity: 0.03 Lux @ F 2.0
Lens: F/No. F2.0
Focal Length: 4.3mm
Angle of view: 78°
Depth of View: 50 cm ~ ∞
Electronic Shutter: 1/8 ~ 1/30,000
Video Output: I2C Data
Power Supply Current: 220mA
Operating Temperature: -10℃ ~ 60℃
Operating Humidity: 20 ~ 90%
Storage Temperature: -30℃ ~ 80℃
Power Input: DC 3.3V± 5%
Dimensions: 28*8*20 (cm)
Weight: 406 g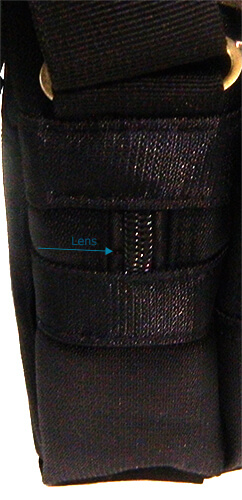 How to use the HB-18Neo:
The DVR needs to be turned off.
To connect the camera to a compatible digital video recorder and plug the camera's micro USB jack into Camera in port on the DVR.
Make sure both camera and the SD card are inserted in the DVR before turning the system on.
Note:
For more information on the setting up and specifications of the handbag camera, please consult the PDF files below.
HB-18Neo is not compatible with LawMate RF wireless transmitters.
24 Months Warranty.