The PV-PH10W is a Full HD 1080P Car Mount Holder Wi-Fi DVR for Smartphones (up to 8 cm width) that offers IR night vision recording.
This Mini DVR camera will blend-in perfectly in any vehicle while having a central position for recording purposes.
The adjustable 360 degrees swivel allows the recording angle to be adjusted according to your needs and recording purposes.
The battery lifetime lasts 170 min (IR OFF) / 85min (IR ON) for continuous recording, while it can record 160 min in 1920*1080 on the 16 GB SD card that comes with the accessories. The motion detection option helps you record only when something is happening and saves valuable SD card space and time for reviewing the video material.
Next to this, after connecting the device to the Wi-Fi, you can monitor the feed from anywhere in the world via your smartphone!
PV-PH10W Main Features:
Wi-Fi enabled
1080P Full HD video (1920*1080) at 30fps .avi format
Continuous and Motion detection Recording
Compatible with devices width up to 8cm
IR for night video recording
360 degree swivel allows viewing angle adjustment
Easy mounting
PV-PH10W Specifications:
Built-in image sensor: 1/3" progressive CMOS sensor
Sensor resolution: 2304*1536
Sensor sensitivity: 3.3 Lux @F 2.0 (IR OFF)
Lens F/No.: F 3.2
Focal Length: 4mm
Angle of View: 66°
Algorithm: H.264
File Format: MOV
Video recording mode: Manual
Recording Capability: 1920*1080
Frame rate: Up to 30 fps
Wi-Fi: Built-in WiFi Module
Memory type: Micro SD Card ( Support SDHC max=32GB)
Data interface: Mini USB 2.0
Date/Time Table: YYYY/MM/DD, HH:MM:SS
Power Input: DC 5V
Power Consumption: 350 mA-380 mA(IR OFF)(IR ON + 330mA)
Charging Time: 120 min (800mA)
Battery Input: DC 3.7V / 1350 mA high polymers battery(XK384085)
Battery Lifetime: Continuous recording 170 min(IR OFF) / 85min (IR ON)
Recording time 160 min @ 1920*1080 resolution ( 16GB SD card )
Dimensions: 10*6.5*1.2 cm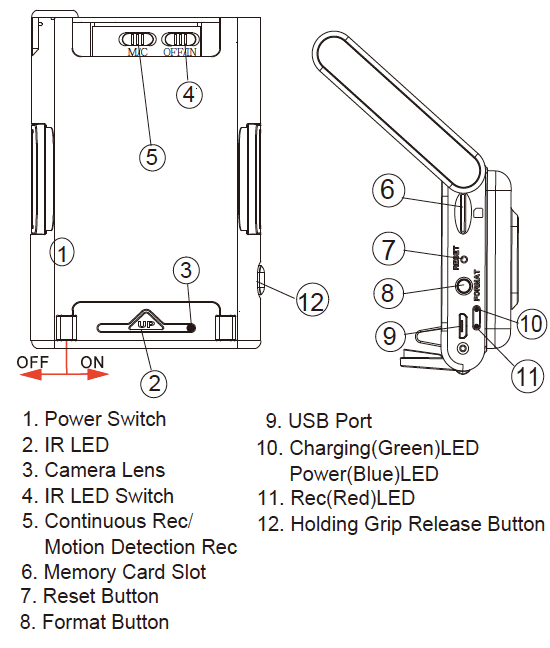 PV-PH10W Feature Focus:
Infra Red night vision recording
With this option you can record in low light circumstances and you will be able to make night recrodings.
360 degrees angle adjustment
This is great if you wish to record something specific that is not necessarily happening in the back of the vehicle. It can be used for recording out of a specific angle, window, etc.
Both features offer more if combined with the motion detection option, as this combo saves you valuable SD card space and video reviewing time.
PV-CAM iOS and Android apps for Lawmate Wi-Fi recorders: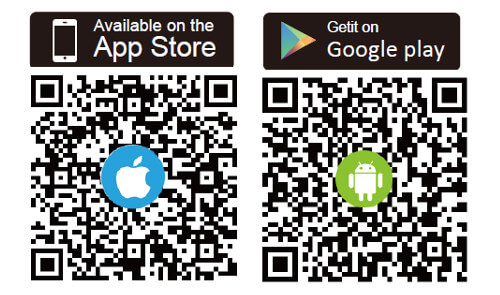 Google play link:
App Store link:
How to use the PV-PH10W:
Power on the device by turning the "Power Switch" to the right
The device starts recording automatically
To power the device off turn the "Power Switch" to the left
To record with IR slide the "IR Power Switch" (Nr. 4 as shown in the illustration above and quick manual available for download below)
To choose a recording mode slide the "Continuous/Motion detection Switch" (Nr. 5 as shown in the illustration above or the quick manual available for download below)
Note: For more info please see the PDF file available for download below.
The PDF specs and Quick Manual will be ready soon and uploaded here.
24 Months Warranty