New! The Lawmate PV-BT10i Wireless Bluetooth Speaker is a small compact Full HD DVR with built-in Covert IP recording option.
The device is the latest newcomer in the IP covert section. It is very interesting as it functions as a real speaker with great sound, it is small and compact and has all the functions from the IP product line we got accustomed to from Lawmate.
The wireless Bluetooth speaker makes an ideal home, office or traveling companion. It is a common practice to have an external speaker connected to your PC, which allows the device to be literally placed anywhere indoors without looking suspicious. It is also a device that comes in handy for people who travel a lot and spend time in hotel rooms.
The Bluetooth speaker IP DVR offers 500 minutes of recording time in Full HD resolution and comes with a 16 GB SD card, and up to 180 min of battery life. Thanks to the PV Cam Viewer app you can take a look at the live feed from anywhere with Wi-Fi access. The multiple recording modes (auto, manual and motion detection) can be also controlled via the app.
PV-BT10i Main Features:
Wireless Bluetooth Speakers
Small with great sound
Sound notifications for devices status
IP connection allows you to monitor the live feed from anywhere in the world
The PV Cam App allows you to setup and control the device from anywhere with Wi-Fi
Auto / Manual and Motion detection recording modes
Can be used to record while connected to PC for charging!
Specifications:
Built-in image sensor: 1/2.9" progressive CMOS sensor
Sensor resolution: 2000x1121
Sensor sensitivity: 0.1 Lux @ F 2.0
Lens F/No.: F 2.0
Focal Length: 3.64
Angle of View 78°
Algorithm: H.264, JPEG
File Format: MOV, JPG
Video recording mode: Auto/Manual/Motion Detection
Recording Capability: 1920x1080, 1280x720, 848x480
Frame rate: Up to 30 fps
Photo Capability: 2M(1600*1200)
WI-FI: Built-in WI-FI Module
Memory type Micro SD Card: Comes with 16 GB ( Supports SDHC max. 32GB)
Data interface: Card Reader
Date/Time Table: YYYY/MM/DD, HH: MM: SS
Snapshot: recording and playback video
Power Input: DC 5V
Power Consumption: 480mA-530mA(WiFi ON),BT+(20-380mA)
Battery Input: DC 3.7V / 1400 mA polymers battery(XK504355)
Charging Time: 180min(560mA)
Recording time: 500min @ 1920x1080 resolution ( 16GB SD card )
Dimension: 86*86*54 mm
Weight: 345 g
Battery life:
PV-CAM iOS and Android apps for PV-BT10i: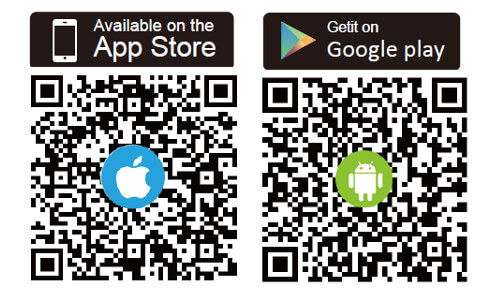 Google Play link:
https://play.google.com/store/apps/details?id=cam.ac.com
App Store link:
https://itunes.apple.com/us/app/pv-cam-viewer/id986625862?mt=8