The PV-500 L4i is the first P2P / IP enabled DVR that is compatible with CMOS and CCD analog cameras!
The previous model, the PV-500L3 is a small and compact DVR that can be placed into a standard cigarette pack, which makes it great for covert recording. The DVR is a go-to device when using Lawmate analog cameras like the BU-18 or the new BU-19 with excellent low light recording.
The New PV-400L4i has maintained all the functions of the L3 DVR, however, the touchscreen has been replaced by an IP connection, and a smartphone App. It allows you to connect to your Android or iOS device and set up, download or monitor the recordings from anywhere in the world - while still offering; high quality 720*576 recording resolution at 30 fps, timestamp, built-in AGC microphone, multiple recording modes, USB connection for charging, and ease of use.
One of the perks of this DVR is that it works with all analog cameras from Lawmate, as well as with analog cameras from other manufacturers!
Now available as a KIT with the BU-19 camera and reduced pricing!
The PV-500L4i is also compatible with:
Lawmate CM-SS10 Mini Video Camera
Lawmate CM-BU18 and BU-18 Cameras
Lawmate CM-EP10 Earphone Type Camera
Lawmate HB-19 and HB-20 Handbag Cameras
Lawmate NT-19 and NT-18 Tie Cameras
Lawmate CM-TC10 Tie Clip Camera
Lawmate CM-DC10 (PAL) Power Cord Camera
PV-500 L4i Main Features:
IP enabled DVR that can be controlled via PV-Cam App
Supports LawMate CMOS and CCD analog cameras like the New BU-19
Small & lightweight with a D1 video quality
Supports RF remote control PI-RF50
Recording modes: Standard & Motion Detection
Date & time stamp on the video
Comes with 16 GB SD card and support up to 32 GB SD Cards
PV-500 L4i Specifications:
Wi-Fi Spec: Built-in Wi-Fi Module (IEEE 802.11b/g/n)
Wi-Fi Protocol RSIP
Video Resolution: 720*480 / 720*576
Frame Rate: NTSC: 30fps / PAL: 25fps
Recording Mode: Standard / Motion Detection
File Format: MOV, JPG
Storage: SD Card (Supports up to 32 GB)
Camera Input: DC 5V Output at 2.5mm AV Input Jack
Date/Time Table: YYYY,MM,DD HH,MM,SS
Power Consumption: 450mA-500mA(Wi-Fi Off) / 510mA-560mA(Wi-Fi On)
Power: DC 3.7 V
Battery Life: Around 240 min recording with CMOS cam (Wi-Fi Off)
Battery Charging Time: BA-2200 - 4 hours
Dimensions: 84*53*20 mm
Weight: 100 g
PV-CAM iOS and Android apps for PV-500L4i: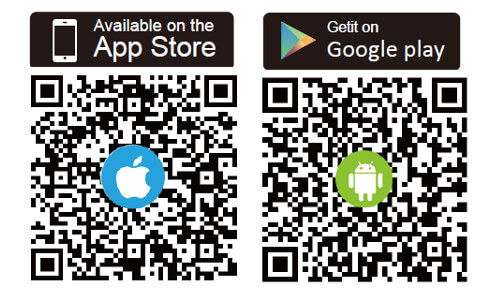 Google Play link:
https://play.google.com/store/apps/details?id=cam.ac.com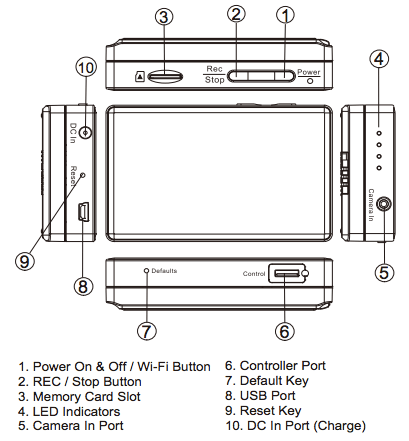 Illustration: Name and Parts from Quick Manual.
PV-500 L4i Feature Focus:
First P2P / IP DVR from LawMate for outdoor use with a separate camera!
This is the first DVR form Lawmate that supports a separate camera, that can be body worn, and used outdoors. Previous models were focused on Mini DVR cameras that had the power supply from the cord and were for indoor use only. However, when combined with the BA-4400 extended battery, or the 7200 mAh Lithium-ion Battery, the PV-500L4i can operate up to 400 min, respectively 700 min.
Compatible with analog cameras!
Great News was that we finally have an IP DVR that can be operated with LawMates analog cameras. As you might know, the PV-500HDW DVR series is only compatible with the BU-18HD cameras designed specifically for them. However, not only can the PV-500L4i work with all analog cameras from Lawmate, it is also compatible with analog cameras from other manufacturers!
How to use the PV-500 L4i DVR:
1. Power on the device. With the camera connected to the DVR, insert the SD card into the SD card slot.
2. Press the Power ON/OFF button for 2 seconds (1. in the quick manual), after the device is powered on for 40 sec, it starts recording automatically.
3. Wi-Fi - When the device is powered on, press (1) to turn On/Off Wi-Fi, and after 40 seconds the Wi-Fi will be enabled.
4. There are three important steps regarding the passwords and setup of the device:
a. Default Wi-Fi password: 88888888
b. Manual or QR code scan of the ID and password from the device itself
Note in the PV-500L4i it is located under the BA-2200 battery, so it is best to write it down
c. Entering the router name and password in the Device Management section of the App
(exact same router name as stated on your device).
5. After this steps, it is important to let the device configure itself for 30 sec, and then manually restart it. Refresh the app and start recording via IP.


Note:
It is very important to enter the exact same router name as stated on your device when configuring it in the App.
Important IP setup Tip - Obligatory deleting of the device from the Device Management section of the App if you wish to switch phones. Otherwise, the device will be linked to the phone via the server and you will not be able to connect to the IP via other smartphone/s.

For detailed instructions on the P2P / IP connection setup, please refer to the IP Cam Manual below.
24 Months Warranty.