Lawmate PV-TM10FHD Thermometar DVR is a new 2017 edition of the previous PV-TM10.
This version comes in Full HD 1080P while retaining all the previous functions like the overwrite function, real time on the DVR, and 9 days standby time. It allows you to record continuously (160 min in Full HD) or with the activated PIR sensor. The camera is upgraded form 2MP to 5MP, and the Lens F/No from F 2.6 to F 3.2. The file format allows you to choose between MOV and JPG.
Its standard accessories allow you to mount it on the wall or place it somewhere in the room using the desktop stand.
Comes now with a 16 GB SD Card, and supports up to 32 GB SD cards.
PV-TM10FHD Main Features:
Full HD 1080p covert DVR in thermometer design
PIR sensor activates recording and photo shooting when a heat source is detected
Real time - clock function
Video at 30fps MOV. format
9 days standby time
Removable battery
Overwrite function
Supports up to 32GB MicroSD card
PV-TM10FHD Full Specifications:
Camera: 1/3" progressive CMOS sensor

Video Resolution: FHD(1920*1080)

Photo Resolution: 5MP(2592*1944.JPG)

Sensitivity: 3.3 Lux @ F2.0

Lens F/No.: F 3.2

Lens Diameter: 4mm

Lens Angle: 66°

File Format: MOV, JPG

Frame Rate: Up to 30 fps

Recording Mode: Continuous / PIR Activated

Memory Type: Micro SD Card ( Support SDHC max.32GB)

Data Interface: Mini USB 2.0

Date/Time Stamp: YYYY.MM.DD, HH:MM:SS

Continuous Recording: FHD:160 min (16G SD Card)

Power Consumption: 250mA-390mA

Standby Consumption: 6.4mA(approx.)

Standby Time: 9 days

Battery Lifetime: 180 min (appox.)

Battery Capacity: DC 3.7V / 1350mA battery

Dimensions: 10*10*1.5 cm

Weight: 133g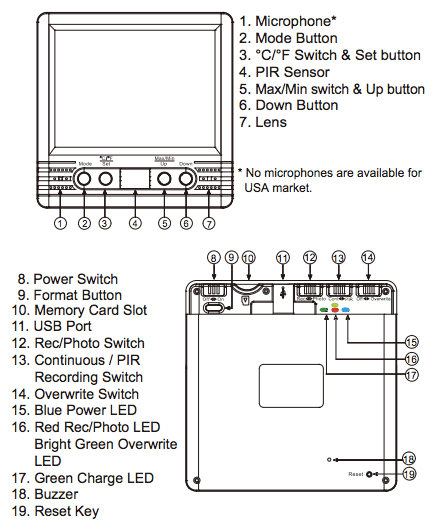 PV-TM10FHD Name and Parts from Quick Manual

LED status bar:
Green: Charging
Bright Green: Overwrite on
Blue: Power on/ Low battery
Red: Video recording/ Photo shooting
PV-TM10FHD Feature Focus:
9 Days standby mode
Equipped with a 1350 mAh battery the device can record approx. 180 min continuous recording, however, it is capable of 9 days standby mode. This is great when you plan short trips, specially in the combination with the PIR sensor.
PIR Sensor
Whenever the PIR sensor is triggered, the DVR automatically starts recording after 5 seconds. The Red LED illuminates to show the recording has started. The length of video varies from 5 seconds to 2 minutes depending on the movement detection. The device takes 3 photos whenever the PIR sensor is triggered.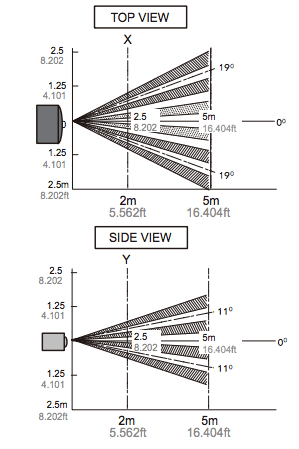 PV-TM10FHD PIR Sensor Detection Range from Quick Manual
How to use the PV-TM10FHD:
Select operation mode by sliding Photo/Rec switch to place.
Power on the DVR (8)
Switch (12) to choose video recording or photo taking
Resolution setting by sliding VGA/HD switch (13) to place
Note: For a complete installation guide, as well as function overview and usage, plase study the Quick Manual below.
24 Months Warranty
>>PV-TM10FHD Quick Manual<<