The RD-30 is a new RF scanner from Lawmate that can find wired and wireless hidden cameras / camera signals, as well as perform RF scans from 20MHz to 6GHz.
This version is an upgraded model from the previous RD-10 RF scanner, that allows to additionally find the wireless and wired camera signals.
However, both devices find wired and wireless spy cameras, no matter the size, even if they are powered off by looking through the eyepiece. It will reflect the light from any pinhole camera back to you, no matter how tiny it is, and you can easily locate the hidden camera source.
The RD-30 scans in a 20MHz to 6GHz range, detects hidden automobile GPS tracking devices and can be used as a wireless bug sweeper.
It has LED lights for the indication of the radio frequency signal strength on the back and offers the vibration mode for covert operations.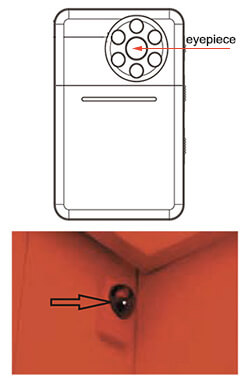 Example of pinhole camera reflection when looking through the eyepiece.
RD-30 Main Features:
Detects both wireless and wired signals - NEW
Find wired hidden cameras even when the device's power is off
20MHz to 6GHz wide scanning range
Detects hidden automobile GPS tracking devices
Pocket Sized and Lightweight
Vibration detection Mode for covert operations
4 LED sections to show RF signal strength
Can be used as a wireless audio bug sweeper
Name and Parts from Quick Manual.
RD-30 Specifications:
Item Number: RD-30
Battery type: AAA Battery
Dimension: 80*52*15.5 mm
Weight: 74 g (without batteries)
Note: For more information regarding the setting up and usage of the RD-30 RF scanner, please read the PDF's available for download below.
Warranty 24 Months