The new PV-AC20HDWI is a Full HD covert DVR recorder that features easy Wi-Fi connection to an Android or iOS device in order to setup, monitor and download files from your device.
Out of Stock and Production.
However, two alternative IP models are available:
What is new compared to the just-released PV-RC200HDW, PV-500HDW and PV-IP7W are the "i" in the PV-AC20HDWi. "I" stands for IP connection that allows PV-AC20HDWI to connect to a router and live stream video anywhere in the world where an Internet connection is available.
PV-RC200HDWi Main features:
NEW!! Remotely monitor, setup and download video files through the direct Wi-Fi connection
NEW!! connects to a local router and provides live audio/video anywhere in the world via IP
NEW!! Easy remote configuration and firmware update
Covert design inside a common everyday AC adapter
Powered by the plug (not dependent by the batteries)
Full HD resolution @ 30 FPS
Good low light performance
Full Specifications:
Built-in Image Sensor: 1/2.9" progressive CMOS sensor
Sensor Resolution: 2000x1121
Sensor Sensitivity: 0.03 Lux @ F 2.0
Lens F/No; F2.0
Focal Length: 4.3mm
Angle of view: 78°
Algorithm: H.264, JPEG
File Format: MOV, JPG
Video Recording mode: Auto/Manual/Motion Detection
Recording Capability: 1920x1080/1280x720/848x480
Frame Rate: Up to 30fps
Photo Capability: 2M(1600x1200)
Wifi Built-in WiFi Module:(IEEE 802.11b/g/n)
Memory type: Micro SD Card (Support SDHC max=32GB)
Data interface: Mini USB 2.0
Date/Time Table: YYYY/MM/DD, HH:MM:SS
Power Input: AC 100-240V
Dimensions: 64x53x43mm
Weight: 97g
PV-RC200HDWi Features focus:
IP connection
PV-AC20HDWi is the first released Lawmate product that features IP connection. Device is set up through a Lawmate PV-CAM app to connect to a nearby router. Once the device is connected it can be accessed from anywhere in the world using the same app.
It is no longer required to be close to the actual recorder in order to access the live stream. Limitations when it comes to quality of video stream from 3G devices and obvious limitation of 1.2 and 2.4 GHz video transmitters when it comes to distance and regulatory requirements are no longer present.
All that is needed to form a clear HD stream of the video is a Wi-Fi enabled router nearby the PV-AC20HDWi and an Internet connection on your Android or iOS device on the receiving end.
Wi-Fi makes it easy to use
A simple Wi-Fi connection from your smartphone to the PV-AC20HDWi enables review and setup as well as time/date stamp synchronization and firmware updates.
It is no longer necessary to bring a separate LCD monitor to fully set up and review the recorded video neither is a nearby laptop necessary to perform time/date and firmware updates.
Everything needed to fully use the device fits inside a pocket.
PV-CAM iOS and Android apps for PV-AC20HDWI: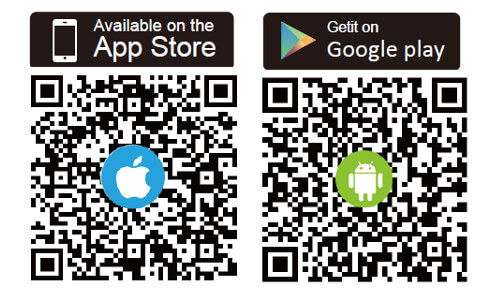 QR Codes
Google Play link:
App Store link:
Illustration - Name and Parts of the PV-AC20DHWI from the Quick Manual: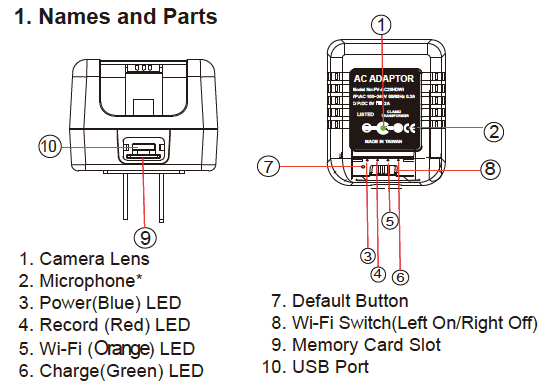 How to start using PV-RC200HDWi:
Open the backside of the PV-AC20HDWi and insert the SD card that comes with the product
To turn on the Wi-Fi slide the wi-fi switch as shown in fig 8.
Plug the charger into an electrical outlet to power on the device, a blue LED will indicate the system initiation that will take about 40 seconds.
When the red LED light begins to shine, the recording mode is on
After a few moments the orange LED light will indicate the Wi-Fi connection is on, it will be named "PV-RC200HDWi..." and visible on your Android/iOS device. Connect to the network while using the initial password "88888888"
Start the PV-CAM app to start monitoring the live video feed
Note:
It is very important to enter the exact same router name as stated on your device when configuring it in the App.
For more information regarding PV-RC200HDWi please consult the PDF specification, quick guide and PV-CAM app manual below.
Important IP setup Tip - Obligatory deleting of the device from the Device Management section of the App if you wish to switch phones.
Otherwise, the device will be linked to the phone via the server and you will not be able to connect to the IP via other smartphone/s.
24 months warranty.