The PV-RC10FHD is a New 2017 edition 1080P Mini DVR camera from Lawmate that has an integrated 5 MP pinhole camera and PIR sensor.
The device looks like any other universal remote controller. The pinhole camera is perfectly concealed into the remotes design, as is the PIR sensor. Even trained law enforcement professionals might have trouble recognising that it is a surveillance device.
The device can be modified to record in Full HD or HD, set up to take snapshots or to record videos, and has the overwrite function. The footage will be automatically saved if the device runs out of battery and offers 9 days standby mode.
Comes with a 16 GB SD card.
PV-RC10FHD Main Features:
Covert DVR in TV remote control design
PIR sensor recording / snapshot
3MP CMOS camera with 1080p Full HD video that is perfectly hidden in the device
FHD / HD resolution selectable
Footage is automatically saved when the device runs out of battery
9 days standby time
Comes with 16 GB SD card & supports up to 32GB Micro SD cards
Overwrite function
Ease of use
PV-RC10FHD Full Specifications:
Built-in image sensor: 1/3" progressive CMOS sensor
Sensor resolution: 2304*1536
Sensor sensitivity: 3.3 Lux @ F 2.0
Lens F/No.: F 3.2
Focal Length: 4mm
Angle of View: 66°
Algorithm: H.264, JPEG
File Format: MOV, JPG
Video recording mode: Manual & Auto
Recording Capability: 1920*1080 / 1280*720
Frame rate: Up to 30 fps
Photo Capability: 5M
Memory type Micro SD Card: ( Support SDHC max.32GB)
Data interface: Mini USB 2.0
Date/Time Table: YYYY/MM/DD, HH:MM:SS
Power Input: DC 5V
Power Consumption: 250mA-390mA
Standby Consumption: About 6.4mA
Working time: 3-8 days depending how many times the PIR sensor is triggered
Standby time: 9 days
Battery Input: DC 3.7V / 1100mA polymers battery
Dimensions: 17*5*1.5 cm
Weight: 110 g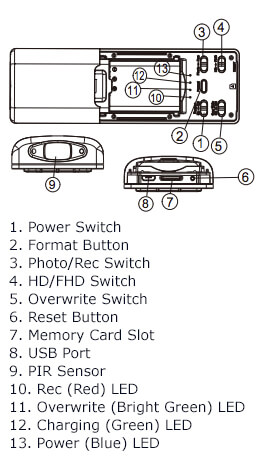 PV-RC10FHD Name and Parts from Quick Manual
PV-RC10FHD Feature Focus:
9 Days standby mode
The device comes with a 3.7V / 1100 mAh polymers battery that will allow it to be 9 days in standby mode. This comes especially handy in cases of short business trips, vacations, or places that are under surveillance but not visited everyday.

PIR Sensor
Whenever the PIR sensor is triggered, the digital video recorder starts recording automatically. The length of the video varies from 5 seconds to 2 minutes, depending on the movement detection. Combined with the overwrite function and the included 16 GB SD card, the worries about memory card space are relicts of the past.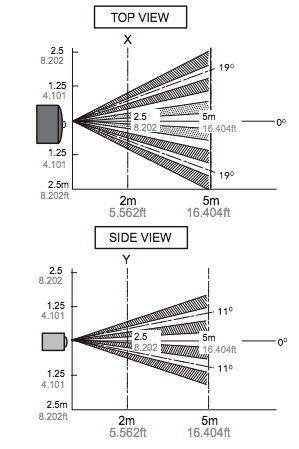 PV-RC10FHD PIR Sensor Detection Range from Quick Manual
How to use the PV-RC10FHD:
Insert the (previously formatted) SD card and battery into the device
Slide the Power Switch (1) to the left
Select an operation mode by sliding the Photo/Rec Switch (3)
Select the resolution by sliding the HD/FHD Switch (4)
There are two ways of retrieving your video and photo files from the device:
By using the SD card reader
By connecting the device via USB (comes with the accessories) to your PC. The device has to be powered on and connected via USB to your PC, that way it will be recognized as external drive and allow the downloading of the files.
Note:
It is very important that you turn off the device before changing the recording mode (Photo/Rec), otherwise the device might crash.
For further details on setting up and using the device, please carefully study the PDFs below.

24 Months Warranty