The PV-900 EVO3 offers a Full HD resolution and multiple FPS option; 25 /30 /60. It has an 64 GB integrated memory and can record in Auto/Manual/Motion detection modes.
The Wi-Fi DVR can be connected to your Smartphone, and the live feed can be monitored, downloaded or set up via the App. Snapshots are available with a 5M(2592*1944) photo resolution.
It has a instant record key to start recording 3 seconds upon powering up. It also comes with multi-layered password protection and the option to disguise the screen to look like it is off or to display the password lock interface.
It has a recording time of 230 minutes when the Wi-Fi is powered off, and 180 min of recording time in Wi-Fi mode.
The timestamp option is available.
PV-900 EVO3 Full Specifications:
LCD: 5" 854 x 480 TFT-LCD
Built-in Image Sensor: 1/3" progressive CMOS sensor
Sensor Resolution: 2304x1536
Sensor Sensitivity: 3.3 Lux @ F 2.0
Lens F/No.: F 3.2
Focal Length: 4mm
Angle of View: 66°
Algorithm: H.264, JPEG
File Format: MOV, JPG
Video Recording Mode: Auto/Manual/Motion Detection
Recording Capability: 1920x1080, 1280x720, 640x480
Frame Rate: Up to 60 fps (25fps/30fps/60fps)
Photo Capability: 5M(2592*1944)
Memory Type: Built-in memory: 64G Module
Data Interface: Mini USB 2.0
Disguised Mode: Stand-By, LCD-Off
Date/Time Table: YYYY/MM/DD, HH:MM:SS
Power Input: DC5V
Power Consumption: 710mA(Wi-Fi off)-850mA(Wi-Fi on) LCD ON
Battery Input: DC 3.7V / 2000 mA Lithium battery
Charging Time: 240min(700mA)
Battery Lifetime: Continue recording 230min (Wi-Fi off)-180min(Wi-Fi on)
Vibration Alert: Power on/off, Recording, Photo, Low battery
Dimension: 143x75x8.4mm
Weight: 135g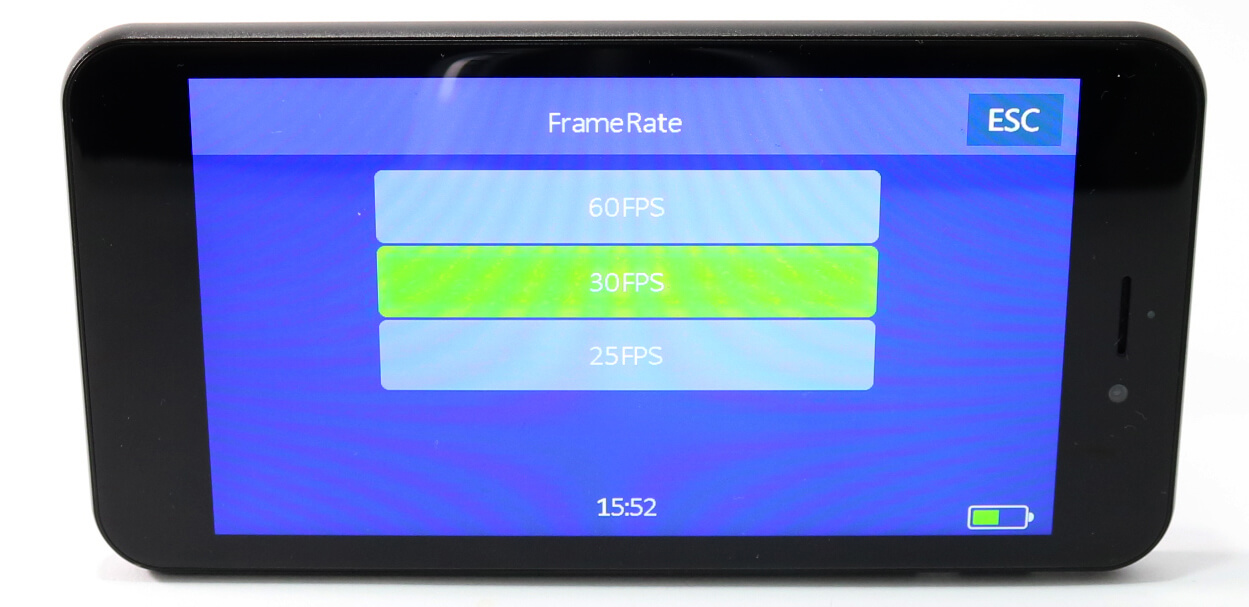 PV-900EVO3 Frame Rate Options - 25 / 30 / 60 FPS
PV-900 EVO3 Feature Focus
Multiple resolution, FPS and recording options
The device allows for precise configuration of video recording modes (Auto/Manual/Motion Detection), recording resolutions (1920x1080, 1280x720, 640x480), and Frames per Second (25fps/30fps/60fps).
There are two ways of locking the screen / disguise recording
The first allows you to record and not accidentally stop because of touching the LCD etc. And the second one looks like a classic lock interface that requires a password or a pattern to unlock the phone;
Password Lock Interface
Screen Display Off
Multi-layered password protection option
You can set up a login password so that your device and the content of your media files are protected.

Audio On/Off
Choose whether to record the audio or not, depending on your surveillance needs.
PV-CAM iOS and Android apps for Lawmate Wi-Fi recorders: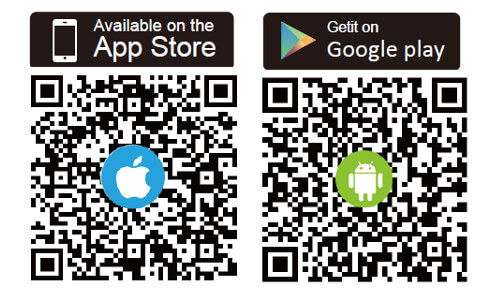 Google play link:
App Store link:
How to use the PV-900EVO3 DVR:
Press the Power On/Off button
Select Motion Detection or Normal recording mode, and press REC on the screen to start recording. You can also start recording automatically via the instant record switch on the phone.
To connect to Wi-Fi enable the Wi-Fi switch on the DVR. Connect the device to your smartphone and launch it in the PV Cam viewer App. For more info take a look in the PV Cam Guide for Wi-Fi Cams available for download below.
Note:
PDF specifications and Wi-Fi setup guide available for download below.
Warranty 24 Months