The PV-RC300FHD 1080p Mini Cam Stick with built-in 5MP sensor
This powerful Mini DVR Cam is perfect to carry around without raising any suspicion, as it comes with a pocket and t-shirt clip so it can be worn casually while taking the photo or video evidence you require.
Besides it's functional design it has a recording quality of 1080 FHD video resolution and supports up to 16GB memory cards.
The PV-RC300FHD is simple to use, with it's thoughtfully placed controls you can make snapshots or record, and switch between them in matter of seconds.
PV RC300FHD Main Features:
1080p FHD Video Resolution
Mount for body worn covert operation
5 Mega Pixel 1/3 Inch Sensor
FHD/HD options
Video recording or Snapshot options
Easy handling via one button operation: Power on/off, Rec, Stop
Supports up to 64 GB memory card
Micro USB connection
Feature focus:
1080p FHD Resolution
Full HD Resolution in a Mini DVR Camera comes with a major advantage, the convenience to record sharp videos and images in the preffered environment.
If the FHD option is not your first choice, you can switch to HD which will allow you more recording space.
Close up text recordings and snap shots
This camera provides high quality snapshots and video material from close up text.
Product Specifications:
Item Number: PV-RC300FHD
Sensor 1/3"progressive: CMOS sensor
Video Resolution: FHD / HD @ 30fps
Photo Capacity: 5MP
Focal Length: 4.0mm
Angle of View: 74°
Storage Capacity: Supports up to16G memory card
Time Stamp: YYYY.MM.DD, HH:MM:SS
Code Compression: H.264
File Format: MOV
Frame Rate: 30fps
Recording Time: FHD 1080p: 65 mins/HD 720p: 75 mins
Indications:
LED Blue:Power On / Green:Charging/ Red:Recording
Dimensions: 25x75x14 mm
Weight: 35g
PV-RC300FHD Illustration (from quick guide):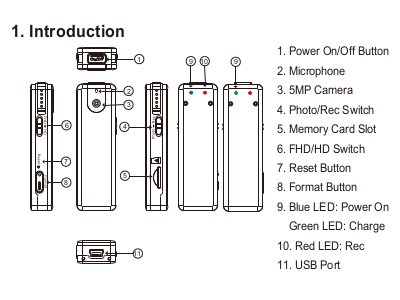 How to use PV-RC300FHD?
Make sure that the DVR is fully carged (via USB cable)
Choose between Photo/Rec switch for photo or video recording
Choose between FHD/HD for your preferred video resolution (for recording)
Insert the memory card
Press on/off button
Note:
You can use the Lawmate PV-RC300FHD Mini Cam Stick as a webcam.
For more information regarding the Lawmate PV-RC300FHD please download specifications PDF file below.
24 months warranty.