The PV-500 Neo Pro is a new (summer 2018) portable Wi-Fi DVR from Lawmate, that has a new locking din plug for a strong camera connection to the DVR.
Like the previous model (
PV-500HDW Pro
) this DVR offers Wi-Fi connection via Smartphone to the App, which allows live monitoring of the video feed, downloading of the videos, snapshots, as well as device settings.
The PV-500 Neo Pro is the newest model of the PV-500 Wi-Fi DVR series with the LCD screen. Almost everything stayed the same regarding the Wi-Fi DVR including full product specifications. However, as the camera to DVR connection has been reinforced, the new cameras are not compatible with the old DVRs and vice versa.
The reinforced military grade dim plug system that has been implemented in this version will make signal interruptions due to cable movement a thing of the past.
The DVR has a 3' LCD Touch Screen which remained in high demand even after Lawmate's Wi-Fi line with in-App live monitoring was introduced.
This makes this device operable in multiple ways; via the App, via the remote control, via the LCD screen, or via the cable controller (comes with the accessories).
The DVR can be used as a standard DVR without the connection to Wi-Fi or manipulation via the App, however, it can also be used as a covert DVR while activating the recording or snapshots via your smartphone.
---
Se siete nostri clienti italiani si può visitare il nostro sito Lawmate dedicato al cliente italiano e conoscere meglio Lawmate
PV-500 Neo Pro
in italiano.
Für deutschsprachige Kunden - Sie können unsere Lawmate-Website für deutschsprachige Kunden besuchen und mehr über den
PV-500 Neo Pro
in Ihrer Muttersprache erfahren.
---
The PV-500Neo Pro is compatible with the following devices:
PV-500Neo Pro Main Features:
Military grade reinforced dim plugs for CAM to DVR connection
3' Touch Screen
Full HD 1080p @30FPS
Wi-Fi enabled DVR
Records up to 160 minutes in 1080p with BA-2200
Records up to 400 min with BA-4400
Access your live video feed via the App
Monitor your feed via your smartphone or download the video/photo files
Make snapshots via your smartphone and save them for later
Can not be powered on without SD card - to prevent battery loss
LED indicators to see what mode is active
PV-500Neo Pro Full Specifications:
Video Input: BU-18Neo (2000*1121) CMOS Camera
Compression Algorithm: H.264, JPEG
File Format: MOV, JPG
Video Recording mode: Auto/Manual/Motion Detection/Overwrite
Recording Resolution:: 1080P/720P/WVGA
Frame Rate: Up to 30fps
Wi-Fi: Built-in Wi-Fi Module (IEEE 802.11b/g/n)
Memory type: Micro SD Card (up to 32GB SDHC)
Data interface: Mini USB 2.0
Date/Time Table: YYYY/MM/DD, HH:MM:SS
Power Input: DC 5V
Power Consumption: 380mA-440mA
Battery Lifetime: 160min @1080P Resolution with BA-2200
Dimensions: 85*54*21mm (With Battery)
Weight: 104g (With Battery)
Battery Lifetime with BA-2200:
180 min(1080P/WIFI OFF/LCD ON)
220 min(1080P/WIFI ON/LCD OFF)
260 min(1080P/WIFI OFF/LCD OFF)
190 min(720P/WIFI OFF/LCD ON)
230 min(720P/WIFI ON/LCD OFF)
270 min(720P/WIFI OFF/LCD OFF)
200 min(WVGA/WIFI OFF/LCD ON)
240 min(WVGA/WIFI ON/LCD OFF)
280 min(WVGA/WIFI OFF/LCD OFF)
Feature Focus:
Reinforced dim plug
- this military-grade plug
for the CAM to DVR cable and connection guarantees that the signal issues are a problem of the past. Interruptions cannot occur anymore, no matter if you are moving while recording, or if you have hidden the unit in a hard to reach place.
Wi-Fi Module
- Now it is well tested and we know that the Wi-Fi connection is ideal for indoors, as well as short distance outdoors covert operations. The signal can reach through a couple of rooms, and it also works on the outside where it reaches up to 100 m.

The distance depends on the place where your router is, and the strength of the signal.

For coverage of great distances, we recommend our
IP products, where you can monitor the live feed from anywhere in the world once you have set up the device.
Controller Cable
The Controller Cable allows you to use the DVR while it is in your pocket or hidden elsewhere (handbag). It is easy to use and offers multiple functions.
Plug in the Controller Cable into the Control port.
To turn on the device, slide the controller toggle downward and hold for 3 seconds. The device starts recording instantly. To turn off the device and stops recording, slide the controller toggle downward again and hold for 3 seconds.
To turn on Wi-Fi, slide the controller toggle downward and hold for 1 second when the Controller Cable is turned on. To turn off Wi-Fi, slide the controller toggle downward again and hold for 1 second.
PV-CAM iOS and Android apps for Lawmate Wi-Fi recorders: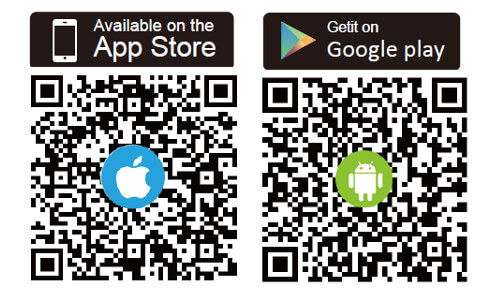 Google play link:
App Store link:
How to start recording with the PV-500 Neo Pro:
Connect the camera to the mini USB camera jack of the DVR
Make sure the SD card is inserted, and the battery is charged
Press the power button for 3 seconds
Press the record button if you wish to start/stop recording before connecting the DVR to Wi-Fi
Press the power button for the second time to turn on Wi-Fi
Connect your Android/iOS device to a Wi-Fi Network that starts with "PV-500.."
Use the default password "88888888" - it can be changed later on in the App Settings
Open your PV-CAM app and start monitoring your live feed
Notes:
For more info please study the PDF files available for download below.
24 Months Warranty