The Lawmate CM-EP10 Earphone Type CCD Camera is the perfect covert device for the 21.century user.
1 Piece Left!
No one pays attention to people who listen music on their mp3's, iPods or smartphones anymore.
CM-EP10 Product Features:
Miniature Earphone Concealed Outlook for Covert Surveillance Application Use
High Resolution & Low Power Consumption CMOS Sensor Selectable for more Various Demand Application
Complete Power & Cable Accessories Attached to Offer Output to More variety Device Use
Full Range of our Wireless Kit & Recording Device Could be Obtained & Worked with Optionally
Standard Audio & Video Analog Output Protocol Allows to Work With any Regular AV Device Instantly
Product Specifications:
Item Number: CM-EP10
Video System: NTSC & PAL
Picture Element: 640 x 480
Resolution (H): 480 TV Lines
Image Sensor: CMOS 1/4 inch
S/N Ratio: 50 dB
MIN Illumination: 3 Lux / 30 IRE @ F2.0
Video Output: 1.0V p-p Composite at 75 ohm
Audio Output: 2Vp-p(MAX) 10KHz ohms Impedance
MIC Sensitivity: Yes
Lens: 3.59 mm
Angle of View: 66.5 Degrees
Power Supply Voltage: DC 5V
Power Supply Current: 130 mA
Operation Tempareture: -10~50
Storage Temperature: -10~50
Dimensions (Incld Lens): 23(W)x26(H)x18(T) mm
Weight: 25 g
CM-EP10 How To Illustration (from quick manual):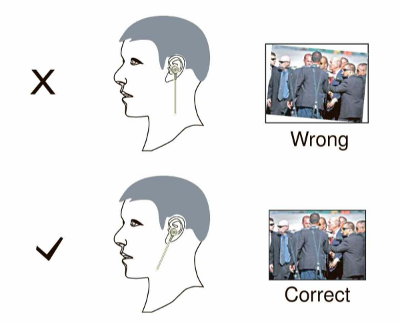 How to use CM-EP10?
Connect the earphones to a portable DVR
Turn on the DVR
Make sure that the plugs are placed so the wire does not fall vertically from your ears
Keep in mind that the cameras position will be from your ears outwards
Start recording
Notes:
The Lawmate CM-EP10 Earphone Type CCD Camera is compatible with Lawmate's:
Lawmate PV-1000Touch5U 500GB DVR
For further details regarding the Lawmate CM-EP10 earphones please consult the PDF guide below.
24 months warranty.