The Lawmate CM-TC10 is a miniature size video Tie Clip Design Camera.
The CM-TC10 is a small covert camera hidden in plain sight on a silver tie clip suitable for both men and women.
The lens itself blends flawlessly in the clip design.
It is extremely lightweight (20g) and allows recording in high resolution with low power consumption.
CM-TC10 Product Features:
Small miniature full audio video solution in a covert disguise
Switchable NTSC / PAL model
Low power consumption allows prolonged use with limited power sources (battery)
Regardless of miniature size features 640*480 VGA resolution
Analog video and audio output is compatible with standard AV devices
Product Specifications:
Video Resolution - 480 TV Line
Pixel Size - 2.5μm X 2.5μm
Digital Picture Resolution - 640x480
Built-in image sensor - 1/13" CMOS Sensor
Illumination Sensitivity - 4V (Lux‧sec)
Lens F/No - 2.8
Focal Lens - 0.99 mm
Dynamic Range - 66dB
AGC - Auto
S/N Ration - 34dB
Shutter Type - Electronic Shutter
Angle of View - 60° ± 2°
Lens Construction - 2 Plastic+IR Cut
Operating Temperature - -20° to +60°
Operating Humidity - 30%-90%Rh
Video System Switch - NTSC/PAL
Power Input - DC 4.5V-5.5V
Power Consumption - 190±5mA
Color - Clear
Frame Rate - NTSC: 30 Frame /PAL: 25 Frame
Weight - 20g
CM-TC10 Illustration from quick manual: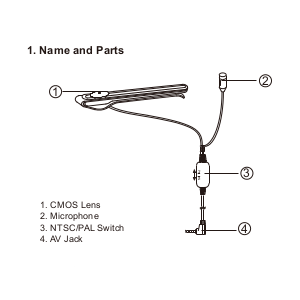 How to use CM-TC10? (with Lawmate DVR):
Connect the camera to a portable DVR (ie. PV-500EV02 / PV-500L2 / PV-1000Touch)
Select NTSC/PAL on the camera
Plug in the Tie Clip Camera in to a DVR
Power on the DVR and press the REC button
Notes:
The CM-TC10 camera can be connected with RF wireless equipment.
Compatible with DVR PV series. Powered by DVR.
For additional information regarding the Lawmte CM-CT10 please consult the files offered for download below.
24 months warranty.