Lawmate PV-BC10 is a 7.8 mm Ultra Slim 720p Black Box Hidden Digital Video & Audio Recorder
This DVR fits in spaces that are usually not large enough to hide a DVR, and alternatively the device can be placed in plain sight without being noticed.
It can be hidden in wallets and pockets, newspapers or magazines, notebooks and purses, which makes it a great device for indoor recording.
It records up to 140 min for video materials and 280 min for audio materials. If you wish to record longer, you can use your own power bank as external battery.
The device is powered manually and offers vibration alerts for Power/Recording/Low Battery.
PV-BC10 Feature Focus:
7.8 mm Ultra slim black box hidden camera DVR
720p Standalone video and audio recorder
Easy to hide and use
Put it in your car center console for in-car covert recording!
Powered from battery and can be used with a power bank for longer recording
Records up to 140 min video and 280 min audio
PV-BC10 Full Specifications:
Built-in Image Sensor: 1/4" progressive CMOS sensor
Sensor Resolution: 1280*960
Sensor Sensitivity: 3.3 Lux@F 2.8
Lens F/No.: F 2.8
Focal Length: 3.7mm
Angle of view: 67°
Algorithm: H.264
File Format: AVI
Video Recording Mode: Manual
Recording Capability: 1280*720
Frame Rate: Up to 30 fps
Algorithm: WAVE
File Format: WAV
Memory Type Micro SD Card: ( Support SDHC max. 16 GB)
Data Interface: Micro USB 2.0
Date/Time Table: YYYY.MM.DD HH:MM:SS
Power Input: DC 5V
Power Consumption: (Video) 220mA-260mA / (Audio)140mA
Charging Time: 120 min (600mA)
Battery Input: DC 3.7V / 750mA polymers battery (XK502071)
Battery Lifetime: Continuous video recording 140 min;Audio recording 280 min
Recording Time: 1280*720(A file/1.6G/30min)/Audio(A file/38M/30min)
Vibration Alert: Power on/off, Recording, Low battery
Dimensions: 95*50*10 mm
Weight 39g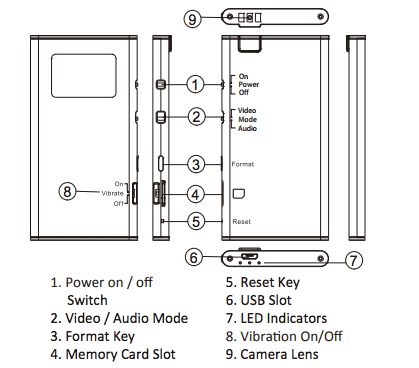 PV-BC10 Illustration from Quick Manual.
Note:
For more information regarding the PV-BC10 please consult the PDF guide below.

24 months warranty.