The PV-RC200HDi is the 2017 edition of Lawmates popular Keyfob Mini DVR's. It comes with a P2P/IP connection option, and records Videos in 1080p.
The IP connecitivity offers great freedom when it comes to accessing your device from anywhere in the world where there is an Wi-Fi connection. Furthermore the device can be operated in multiple ways: manually with recording just on the SD card, with connection to smartphone via Wi-Fi, or with P2P / IP connectivity.
It comes with timestamp and overwrite functions, which are great features, specially for professionals in the law enforcement industry.
The vibration on and off function allows you to operate the device without having to focus on the LED indicators. It comes with a 16 GB SD card, and supports up to 32 GB SD cards. Like the previous model, the PV-RC200HDW, this device offers MOV & JPG file formats, and a min. illumitation of 3.3 lux.
PV-RC200HDi Main Features:
P2P / IP enabled Full HD Keyfob DVR
Small pinhole camera
Records at 1080p/720p/WVGA
PV Cam Viewer App allows setup, monitoring, live stream and downloading of the Video and Photo materials on you smartphone
1080p Video H.264 30fps .mov format
Vibration mode option for Power/ Rec / Wi-Fi
LED indicators for power / charging / Wi-Fi / Rec
Comes with 16 GB SD, and supports up to 32 GB SD cards
Overwrite & Timestamp functions
PV-RC200HDi Full Specifications:
Camera: 1/3" progressive CMOS sensor
Angle of View: 66°
Video Resoluiton: 1920*1080 ; 1280*720 ; 848*480 (all @ 30 FPS)
Photo Capability:(APP) 2M (1600*1200)
Sensor Resolution: 2304*1536
WI-FI: Built-in Wi-Fi Module(IEEE 802.11b/g/n)
Memory type: Micro SD Card (Up to 32GB SDHC)
Lens: 4 mm
Min. Illumination: 3.3 Lux @ F 2.0
Video File Format: MOV / JPG
Picture File Format MOV, JPG
PC Interface: Mini USB 2.O
Time Stamp: YYYY/MM/DD, HH:MM:SS
Vibration Alert: On/Off/Record/Low Battery/ Wi-Fi On & Off
Charging time: 120 min(560mA)
Battery type: DC 3.7V / 650 mA high polymers battery
Battery life: Continous recording 60min(Wi-Fi on)/70min(Wi-Fi off)
Recording time: Approx. 300min @ 1080p (16GB memory card)
Dimensions: 71x41x16mm
Weight: 46 g
PV-CAM iOS and Android apps for PV-RC200HDi: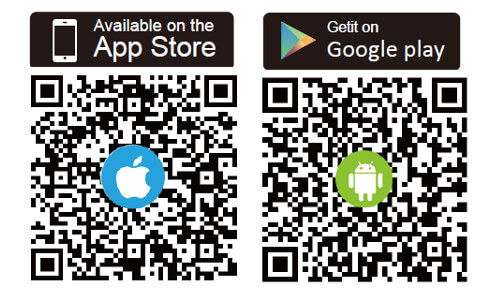 Google Play link: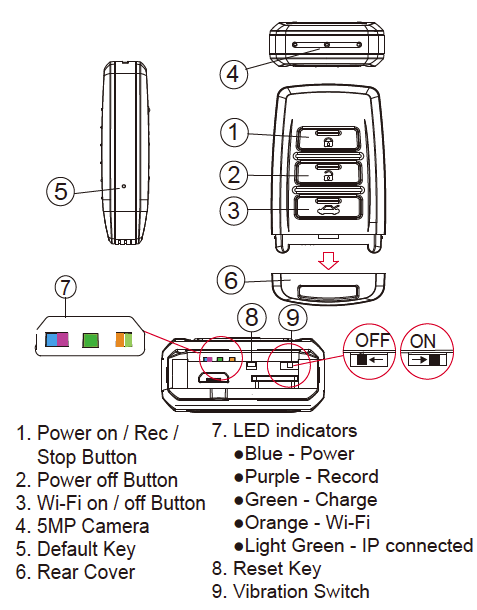 Illustration: PV-RC200HDi Name and Parts from Quick Manual
PV-RC200HDi Feature Focus:
P2P / IP Connection
Due to the router connection of the device, you have the freedom to access your device from anywhere in the world where Wi-Fi is available.
You can always check in on the live stream, download a needed video or photo file, or change the settings.
Overwrite function
The overwrite function allows to be at ease with the SD card memory, and keep on your keyfob DVR just what you need. This works great for professionals in the law enforcement sector, as not all the recorded material is also needed for evidence. The included 16 GB SD card will provide for hours of recorded materials.
Automatic recording and Off mode
Once the SD card is removed from the device, the PV-RC200HDi can not be turned on, much like the 2016 keyfob releases, however a feature that provided less accidentally battery drainage which happens sometimes when the keyfob is carried inside a pocket like/with regular keys.
Also, 40 seconds after the device is turned on, it will start to record automatically!
How to use the IP Keyfob Mini DVR:
Power On the device by pressing the Power ON / Rec button once (1) in quick manual
40 seconds after the device is on it will start recording automatically
For powering on the Wi-Fi press (3) and wait for approx. 30 sec for the device to configure itself
You can power off the device by pressing the (1) button for 3 secondsFor detailed instructions how to use the device without wi-fi or IP connection, and/or how to setup the individual connections via the App, please carefully study the IP Cam App Manual below.
Note:
It is very important to enter the exact same router name as stated on your device when configuring it in the App.
24 Months Warranty