New PV-RC200FHD recorder is an upgrade to the well known PV-RC200HD audio and video recorder making covert evidence recording even simpler.
Lawmate keyfobs have always been at the frontier of the covert surveillance equipment development. 5th generation PV-RC200FHD keyfob is no different.
5th generation PV-RC200 recorder comes with a whole new design, heavier feel and harder to accidentally press buttons. Together with FHD resolution and just as reliable WDR camera sensor option it makes the device even easier to operate.
PV-RC200 FHD integrates a powerful Video and Audio recorder in a small covert device while also less experience is needed to make a quality recording due to devices high sensitivity to low light conditions.
New PV-RC200 FHD recorder improves upon previous models:
Higher sensitivity to low light conditions
Vibration and Full HD/HD keys easier to reach and adjust
New design - heavier with a better keyfob feel
Harder Keyfob buttons - no accidental pocket photos or videos
New A/V processor
Keyfob DVR Main Features:
1920*1080 Full HD H.264 keyfob DVR
Small covert 5MP camera that can be used to video record, take snapshots and as a webcam
Adjustable Vibration alert ON/OFF
Comes with a 8GB SD card, and supports up to 32GB SD cards
Vibration and VGA/HD keys easier to reach and switch
New design improvements - a bit heavier than its predecessor, has the real feel of a keyfob
Simple handling - connection via USB to the PC, the installation requires no drivers, and the device itself can be used as a USB storage device
High volume Li-Ion battery
In order to accurately judge the quality of the video please choose 1080P in your video player.

PV-RC200FHD Product Specifications:
Camera: 1/3" CMOS Digital Image Sensor
Angle of View: 78 Degree
Video Resolution: 1280X720 / 1920X1080
Photo Resolution: 1280X720 / 1920X1080
Lens: 4.3mm
Min. Illumination: 0.4 Lux @ F 2.0
Video File Format: AVI
Picture File Format: JPEG
PC Interface: Mini USB 2.0
Time Stamp: YYYY.MM.DD. HH:MM:SS
Vibration Alert: On/Off/Record/Photo
Charging Time Approx; 86mins
Battery Typ:e DC 3.7V / 700mA lithium-ion battery
Working Hour Approx; 80mins
Memory Type: Micro SD Card 8GB (Support SDHC max.32GB)
Dimension 70*40*15mm
Weight 45g
PV-RC200FHD Illustration from manual: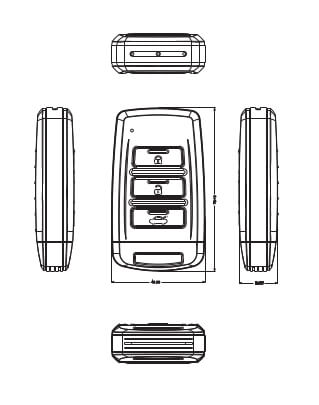 Feature Focus:
Heavy weight design and buttons
It is slightly bigger, heavier and looks robuster. The feel in the hands and pockets is solid, whereas the PV-RC200HD2 is more elegant and slim.
The buttons are harder to press which eliminates accidentaly battery drains or pocket snapshots. The vibration and Full HD/HD keys are placed in front and are easier to adjust.
Higher sensitivity to low light conditions
Lawmates continuous efforts to produce a low lux camera can be seen in the PV-RC200FHD as it is capable of delivering high qulaity video and photo material in minimum lumination circumstances.


How to use the Keyfob DVR?
It is advisable to pre-setup the device by formating the SD card before first use.
To turn ON the device - Press the Power ON/Record button
To start recording - press the Power ON/Record button once more
To snap a picture - press the photo button
To snap a Picture while Recording - use the Record and Photo button at once
Press the Power OFF button to turn off the device
Note:
For more information regarding the PV-RC200FHD please consult the PDF guides below.
(All LawMate DVRs from our web shop record audio).
24 months warranty.