When it comes to counter surveillance, Digiscan Labs is a major player in the field. We have the best buys on stock, including the NEW iProtect 1205 and GMS Safe 3 & WEGA-i !
WEGA-i Detector of hidden video cameras is a high end surveillance countermeasure device created for professionals.
It operates on the optical principle and can discover lenses of all types of covert cameras while not depending on their working state.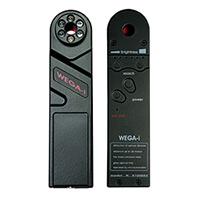 iProtect 1205 Bug Detector can help in searching for the following RF devices:
Common VHF/UHF transmitters
Video transmitters
Digital transmitters with continuous carrier, storage compressing and short-time transmissions
Spread-spectrum transmitters and frequently changing frequency transmitters
GSM and digital enhanced cordless telecommunications transmitters (DECT)
Vehicle tracking devices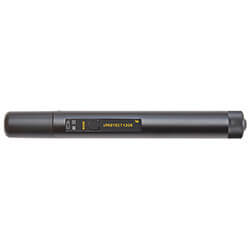 GSM Safe 3 - detects illegal activation of a mobile phone, and renders the microphone in the mobile phone useless by generating white noise when radio-waves are detected. Features:

Accurate and sensitive detection of GSM 900/1800, CDMA850, WCDMA2100 (3G, UMTS) and Bluetooth by an intelligent algorithm of the microcontroller
Built-in diode for indication of the active mode and kind of the detected protocol
Newest version - turns on automatically when a telephone is put inside and automatically turns off when the handset is taken out!
A new more sensitive scheme of detection with preselectors provides a better detection distance
Long battery life of up to 10-15 days (when used moderately)
Does not block the mobile network in the area
Has no adverse effect on health (no electromagnetic waves)
Compatible with virtually all types of GSM telephones (max width 7 cm, practically any height and thickness)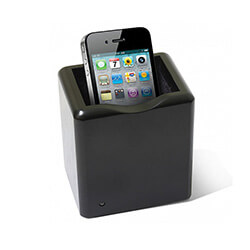 iProtect 1210 - covert, portable & body worn bug detector will assist you in:
Searching for active radio transmitting surveillance devices (or RF bugging devices) in premises, vehicles and items
Discovering the improper use of mobile phones and other communication equipment for picking up conversations
The information in this case can be transmitted to another phone or recorded onto an answering machine
Detection of harmful emissions from GSM-jammers or mini recorder Suppressors
Detection of harmful emissions from microwave ovens, communication antennas and other electronic appliances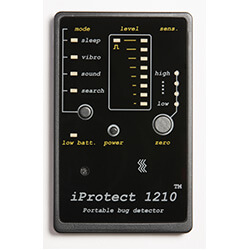 MNG-300 Rabbler was designed by TSCM counter surveillance experts to protect your confidential conversations from eavesdropping. It stops:
Voice Recorders
Radio Microphones
GSM/3G Bugs
Body-carried Video Cameras, Watches, Ties, etc...(jamming of acoustics)
Wired Microphones
Any other Type of Audio Surveillance