The DigiScan Labs iProtect 1205 Portable Bug Detector is 2016 / third generation countersurveillance signal detector with a pen like outer appearance.
New features:
New case with bigger battery and longer battery lifetime
More segments on the bargraph (16) and wider dynamic range
Vibration indicator
Audio mode
It is a multifunctional professional tool designed to work well in covert situations.
This bug detector stands out with it's design and functionality, simple pen sized design allows us to conveniently hold it in our pockets.
iProtect 1205 Full Features:
Easy and quick detection of RF bugs of different types, including VHF/UHF transmitters, GSM bugs, wireless video cameras, Wi-Fi audio and video transmitters, vehicle transmitters, body-carried transmitters, etc.
3 working modes: Normal, Vibrating and Audio
Wide frequency range: 50-6000 MHz
Powered by just 1 * AA battery, comes with 2* AA batteries
16-segment bargraph indicator
Physical attenuator provides ability to locate strong RF sources
Highly sensitive to real signals without being affected by weak background radio waves
No sensitivity loss at battery discharge
Low power indication
High-quality detection scheme with professional RF isolation
Reliable and tested device for different sweeping tasks
Detects both analogue and digital transmissions
Allows the operator to locate the source
Vibrating signal for concealed indication of a high RF level and testing hard to access places
Durable duralumin case
Battery resource 10-20 hours
iProtect 1205 Product Specification:
Frequency range: 50MHz - 6GHz
Controls: Power button,
Mode button,
ATT button
Indicators: 1) 16-segment bargraph;
2) Vibration
3) Battery state (3 colors
4) Working mode
5) ATT state
Batery recource: 10-20 hours
Dimensions: 172 x 19 mm
Frequency range: 100 mA in stand-by mode
200 mA at a full bargraph
Power source: 1 x AA battery (LR06)
iProtect 1205 Illustration (Name and controls from User Manual):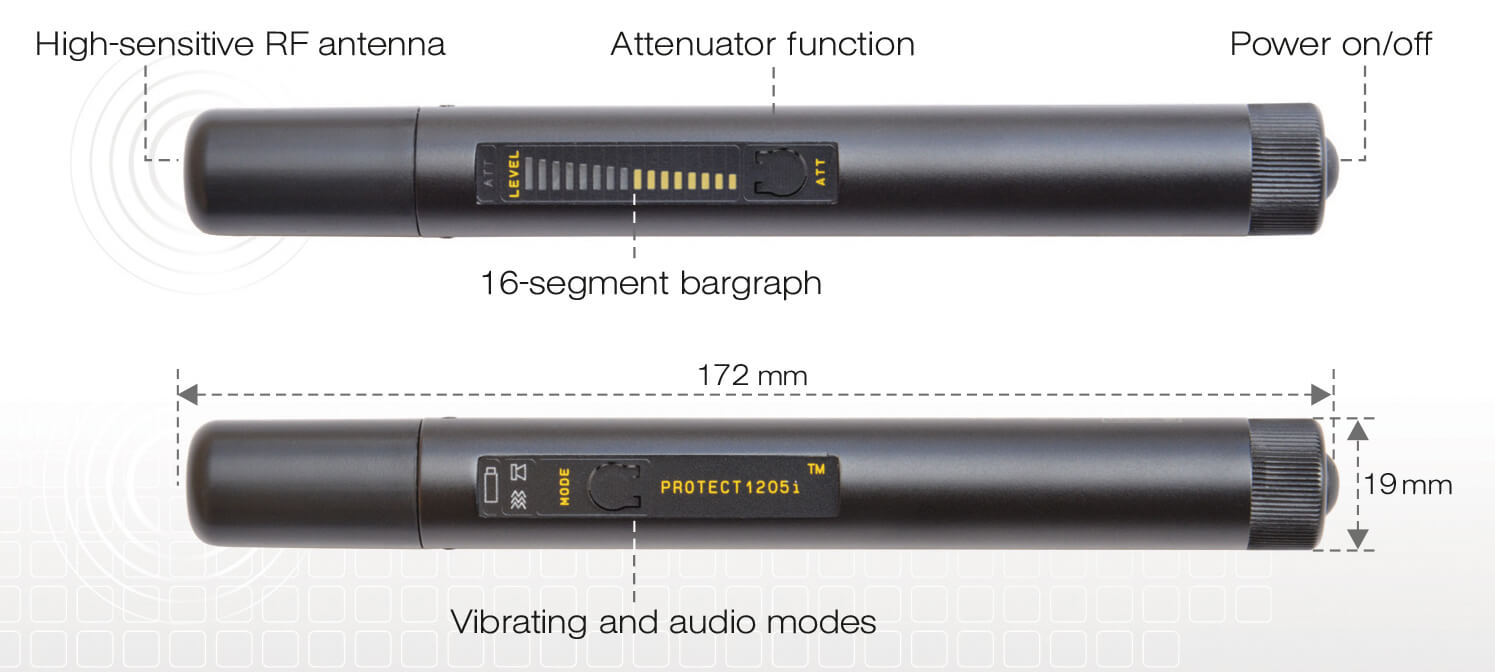 iProtect 1205 Bug Detector can help in searching for the following RF devices:
Common VHF/UHF transmitters
Video transmitters
Digital transmitters with continuous carrier, storage compressing and short-time transmissions
Spread-spectrum transmitters and frequently changing frequency transmitters
GSM and digital enhanced cordless telecommunications transmitters (DECT)
Vehicle tracking devices
How to use the iProtect 1205 Portable Bug Detector?
Push the Power On button to turn on the device
Adjust the sensitivity of the device
Start your sweep
Notes:
For more information regarding the usage and features of iProtect 1205 please consult the specifications PDF offered for download below.
24 months warranty.