The MNG-300 Rabbler was designed by TSCM counter surveillance experts to protect your confidential conversations from eavesdropping.
It functions on the principle of speech-like noise, which in most cases has proven to be more reliable when compared to white noise.
The speech-like noise used in the MNG-300 Rabbler, has been put together using real human conversations and voices, making it similar to the "rabble" in public places.
The device is portable, small - cigarette pack sized, and easy to use.
The Rabller renders the following listening devices useless:
Voice Recorders
Radio Microphones
GSM/3G Bugs
Body-carried Video Cameras, Watches, Ties, etc...(jamming of acoustics)
Wired Microphones
Any other Type of Audio Surveillance
MNG-300 Rabbler Specifications:
Frequency range, Hz: 300 - 3600
Power V: 9
Current consumption mA: up to 120
Controls: Power, Volume Indicator, Level
Dimensions: 85*53*21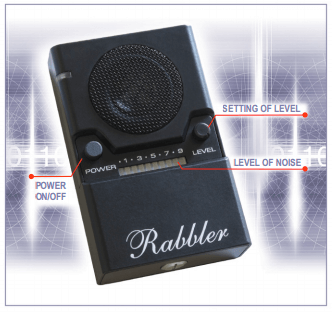 >>>Rabbler Illustration from Specifications<<<

How to use the MNG-300 Rabbler:
Power the device ON
Set it to the maximum level of noise
Talk in a medium to low tone, while keeping the device close to you and your conversation partner/s.
Note:
For a more detailed description of the usage process of the Rabbler, please consult the User Manual and Specification PDF's below.
24 Months Warranty.