STronic Vario PRO K+ from the Longlife Vario series with premium sound quality due to the integrated Knowles Microphone. It lasts up to 180 days in standby mode depending on the selected battery.
This listening device is reliable, with easy installation an usage. It has the VOX call back function, which is also the only command of this GSM Bug. It is small, compact, and easy to hide.
The Vario PRO K+ does not come with a battery, however, it can be connected to an external battery, like the STronic BA-5500 mAh or to an external 220V/12V power source.
The device itself can be used as a charger for the external battery when connected to the charger cable and adapter head that comes with the accessories. However, it can also be used with an external charger if you wish to.
The miniature high-quality Knowles microphone is a long cable and as such, it can be hidden in a number of places.
Main Features:
Knowles Microphone for extra clear sound
VOX call back function
Up to 180 days standby depending on battery
STronic Vario PRO K+ Specifications:
1,7 cm * 4 cm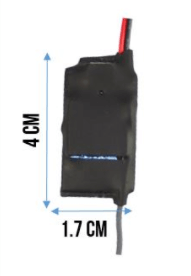 Package contains:
Vario PRO K +
Charging adaptor
Charging cable
3M mounting system
How to use the STronic Vario PRO K+:
Connect the module to a battery of your choice or to 220V/12V external power source.
Put a SIM card into the device (not included).
Unplug the device and let it boot up for 10 seconds, and you will be able to call the device and listen to the conversation.
Activate the call back function by sending an SMS = 1111
Deactivate the call back function by sending an SMS = 0000
Battery info:
The device operates on an external battery (not included)
The device comes without a battery and is compatible with different battery sizes; from 800 mAh to 12800 mAh.
We have the
STronic BA-5500 mAh
available in stock. It can also be connected to an external 220V/12V power source.
The charger that comes in the accessories of the device is not a power source. It is for charging purposes only.
Note:
The quality of the mobile signal in the place of installation will affect the quality of interception.
It is recommended by the manufacturer to format the battery before first use, see details in the PDF below.
Please carefully study the PDF below before using and setting up the device.
SIM Card not included.