The PV-500 Neo is a new (summer 2018) portable Wi-Fi DVR from Lawmate, that has a new reinforced plug for the DVR to Cam connection.
Like the previous model (
PV-500HDW
) this DVR offers Wi-Fi connection via Smartphone to the App. That way you are able to live monitor the video feed, download the files, set up the device remotely, etc.
This DVR has no LCD screen however as it connects to your Smartphone via the App, you will be always able to see what is going on.
All specs regarding the Full HD video input remained the same as in the previous model. The DVR comes with 16 GB SD card.
The PV-500Neo is compatible with:
PV-500Neo Main features:
Reinforced Military grade dim plug for stable CAM to DVR connection
Full HD 1080 P
Connect to any iOS/Android enabled device via the App and your smartphone
Monitor the live feed, or set up the device via the App
Download the desired video/photo footage via the App
Records up to 160 minutes in 1080p with BA-2200
Records up to 400 min with BA-4400
LED indicators for Charging, Power, Recording, Wi-Fi On/Off modes
PV-500 Neo Full Specifications:
Video Input: BU-18Neo (2000*1121) CMOS Camera

Compression Algorithm: H.264, JPEG

File Format: MOV, JPG

Video Recording mode: Auto/Manual/Motion Detection/Overwrite

Recording Resolution:: 1080P/720P/WVGA

Frame Rate: Up to 30fps

Wi-Fi: Built-in Wi-Fi Module (IEEE 802.11b/g/n)

Memory type: Micro SD Card (up to 32GB SDHC)

Data interface: Mini USB 2.0

Date/Time Table: YYYY/MM/DD, HH:MM:SS

Power Input: DC 5V

Power Consumption: 380mA-440mA

Battery Lifetime: 160min @1080P Resolution with BA-2200

Dimensions: 85*54*21mm (With Battery)

Weight: 104g (With Battery)
Battery Lifetime with BA-2200:
240 min(1080P / WIFI ON)
270 min(1080P / WIFI OFF)
270 min(720P / WIFI ON)
300 min(720P / WIFI OFF)
300 min(WVGA / WIFI ON)
330 min(WVGA / WIFI OFF)
Feature Focus:
Reinforced dim plug - this military-grade plug for the CAM to DVR cable and connection guarantees that the signal issues are a problem of the past. Interruptions cannot occur anymore, no matter if you are moving while recording, or if you have hidden the unit in a hard to reach place.
Wi-Fi connection - after a couple of year of using and testing the Wi-Fi devices, we can firmly confirm that these products are great for indoor as well as short-distance outdoor covert operations.
The Wi-Fi signal covers a couple of rooms indoors, provided the signal to the router is uninterrupted, and it covers up to 100 m outdoors.
For long-distance recordings check out our IP remote recorders.
Controller Cable
The Controller Cable allows you to use the DVR while it is in your pocket or hidden elsewhere (handbag). It is easy to use and offers multiple functions.
Plug in the Controller Cable into the Control port.
To turn on the device, slide the controller toggle downward and hold for 3 seconds. The device starts recording instantly. To turn off the device and stops recording, slide the controller toggle downward again and hold for 3 seconds.
To turn on Wi-Fi, slide the controller toggle downward and hold for 1 second when the Controller Cable is turned on. To turn off Wi-Fi, slide the controller toggle downward again and hold for 1 second.
PV-CAM iOS and Android apps for Lawmate Wi-Fi recorders: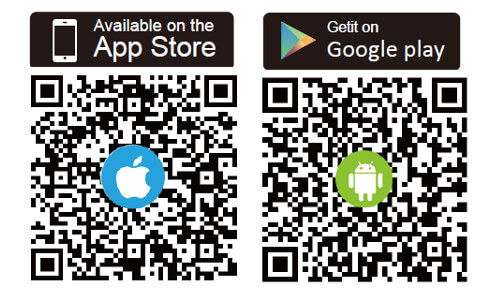 Google play link:
App Store link:
How to use the PV-500 Neo:
Connect the camera to the DVR
Make sure the SD card is inserted, and the battery is charged
Press the power button for 3 seconds
Press the record button if you wish to start/stop recording before connecting the DVR to Wi-Fi
Press the power button for the second time to turn on Wi-Fi
Connect your Android/iOS device to a Wi-Fi Network that starts with "PV-500.."
Enter the following password in the requested field of your smartphone "88888888". You can change it later in the App settings
You can now monitor, set up or download your live feed.
Notes:
For more details on specifications, how to use and set up the Wi-Fi connection, please study the PDF files available for download below.
24 Months Warranty