The Lawmate PV-WT10 Smart Watch covert camera is a 1280*960 HD Mini Digital Video Recorder.
Out of Stock and Production.
It is a simple device that uses one button for operation, indicating if the device is recording or not and showing the time and date.
It comes with a 16 GB SD card and supports SD Cards up to 32 GB.

PV-WT10 Main Features:
Smart watch design covert camera
Can work as the real smartwatch
Built-in HD Camera for recording
Single Button design, extremely easy to operate
Special signs on screen to indicate the device status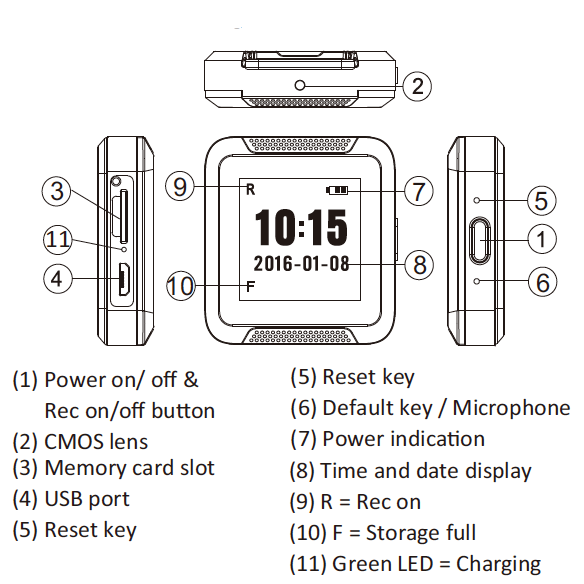 <<Name and Parts Illustration form Quick Manual>>
PV-WT10 Full Specifications:
Built-in Image Sensor: 1/4" progressive CMOS sensor
Sensor Resolution: 1280*960
Sensor Sensitivity: 3.3 Lux @F2.0
Lens F/No; F 2.8
Focal Length: 3.7mm
Angle of view: 67°
Algorithm: H.264, JPEG
File Format: MOV, JPG
Video Recording mode: Manual
Recording Capability: 1280*720
Frame Rate Up: to 30fps
Memory type: Micro SD Card 16 GB (Supports SDHC max. 32GB)
Data interface: Mini USB 2.0
Date/Time Table: YYYY/MM/DD, HH:MM:SS
Power Input: DC 5V
Power Consumption: 210mA-250mA

Battery Lifetime: Continuous recording 80min
Standby Mode: 80 min (after 3 min of no recording, the device will turn itself off)
Dimension 47*43*13mm
Weight: 37g
Note:
For further details regarding the Lawmate PV-WE10 Smart Watch please consult the PDF files below.
24 months warranty.