STronic UR225-135 is a powerful and slim Audio Recorder that can be 225 days in Voice Activation mode and offers 135 hours of recording time.
This Voice recorder has an impressive voice activation period than is almost more than any other device in this niche offers. It is extremely thin with only 3.5 mm and has a very high capacity. The device has a USB port for data extraction purposes, just connect it to a PC and get your audio material in MP3 format.
It is easy to use with one switch that can be set in 2 positions; the first is continuous recording and the second voice activation mode/recording. Just choose your operation mode and a hiding place for the audio recorder.
With 3.5 mm this one is perfect for slim spaces like behind artworks, clocks, underneath tables etc. As the device comes with highly sensitive microphones you will be able to listen to voices and noises in a radius up to 10 meters away.
Main Features:
225 days in Voice activation mode
135 hours of Recording time
HQ audio using Mp3 codec for perfect compression
Size: 97 x 80 x 3.5mm (very thin)
STronic UR225-135 Specifications:
Recording Time: max capacity 135 hrs
Battery Life: 135 Hrs
Standby Time: 225 Days in voice activation
Operating system: Windows XP,7,8,8.1,10
Charging Time: 4 hrs
Size: 97 x 80 x 3,5mm
Memory: 4 GB

Weight: 27.2g

Package contains:
STronic UR225-135
Charger
USB MINI cable
Charging when unplugged from the cable:
0—30% battery: No flash or light
30—70% battery: One flash
70—100% battery: Light ON

How to use the STronic UR225-135:
Place the device on the table with the connector facing up like in the image below.
For continuous listening slide the switch in Position 2.
For Voice Activation slide the switch in Position 1.
To turn off the device, push the switch in Position 3.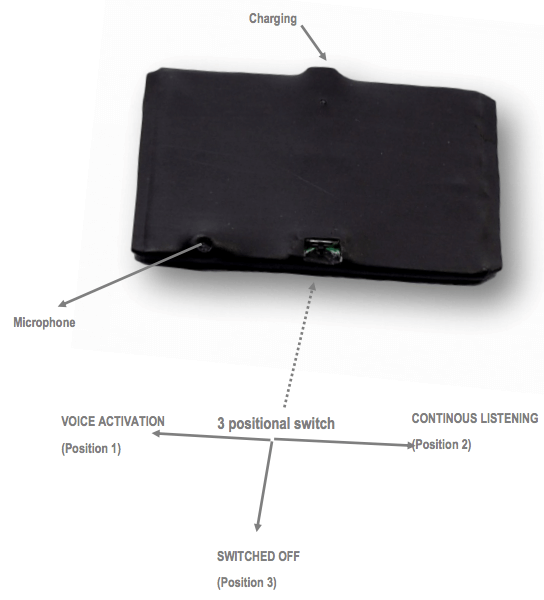 Note:
The quality of the mobile signal in the place of installation will affect the quality of interception.
It is recommended by the manufacturer to format the battery before first use, see details in the PDF below.

Please carefully study the PDF below before using and setting up the device.