The STronic UR125-075 is a small, compact voice recorder that is one of the best available on the market. It offers Voice activation with 125 days in detection mode and 75 hours of recording time.
The microphone is located underneath the device, is highly sensitive, and has the ability to listen in a 10-meter radius. The UR125-075 (ultimate record) offers exquisite sound quality with low battery consumption.
This audio recorder can be easily hidden due to its size, and the microphone with crisp sound recording makes sure that you get the audio you were looking for.
After you format the battery before the first use, all you have to do is switch to voice activation or continuous recording mode. The data extraction is made via USB cable that comes with the device. You can easily access your files on a PC and listen to them in MP3 format.
Main Features:
75h of continuous recording
Up to 125 days in voice detection mode (standby mode)
Easy operation: On/Off and Voice activation
Very sensitive microphone that picks up noise in a 10 m radius
Integrated connector easily attached to the PC via USB
Small, can be operated from the pocket with voice activation or hidden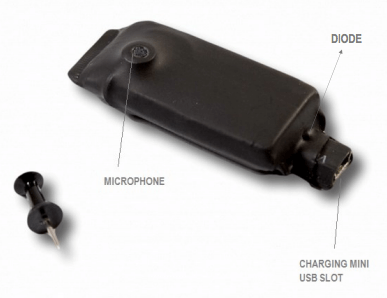 Picture from PDF available for download below.

STronic UR125-075 Specifications:
Recording Time: max capacity 144 hrs
Battery Life: 75 Hrs
Standby Time: 125 Days in voice activation
Charging Time: 3 hrs
Operating System: Windows XP,7,8,8.1
Size: 50*21*10 mm
Weight: 27.2g

Charging:
When unplugged from the cable:
0—30% battery: No flash or light
30—70% battery: One flash
70—100% battery: Light ON
Package contains:
STronic UR125-075
Charger
USB MINI cable
How to use the UR125-075:
Place the audio recorder on the table, with the connector facing up like in the picture below.
When you slide the switch to the left you activate the voice activation mode
When you slide the switch to the right you activate the continuous recording mode
To turn the device off, slide switch nr. 3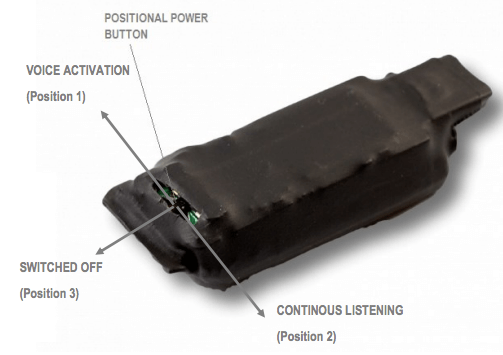 Picture from PDF available for download below.
Note:
The quality of the mobile signal in the place of installation will affect the quality of interception.
It is recommended by the manufacturer to format the battery before first use, see details in the PDF below.
Please carefully study the PDF below before using and setting up the device.
SIM Card not included.