Edic mini Tiny Plus B80 150 HQ is a small-sized audio recorder with a high-quality microphone and integrated 4GB memory.
The audio recorder is easy to use, light and in a metal case that allows you to carry it around near your hand (pockets etc) and activate it as you need it.
The microphone has high sensitivity and low noise levels with a radius of recording up to 12 meters. The device comes with a CR2450 battery that can be easily replaced in a second and enable the device to continue recording with a fresh power supply (the battery is widespread and can be easily found in multiple online shops).
To retrieve the files simply connect it to your PC via the USB 2.0 adapter that comes with the accessories. The playback is made via PC (Windows XP, Vista, 7, 8). The software allows you to configure the device.
The B80 supports the system of digital markers, which will ensure the security of your work (inaudible markers are added to the record allowing it to identify the record's time, date, the recorder's type, its serial number, and the attempts to modify it).
The B80 can record in continuous recording mode, Voice Activation System (VAS) recording and allows for timer recording setup. It supports linear as well as circular recording modes.
Edic mini Tiny Plus B80 150 HQ Main Features:
Miniature size with quality metal case
Microphone with high sensitivity and low noise level for professional recording up to a 12 m radius
10-bit audio codec supporting high record quality
UP to 150 hours of recording onto the integrated 4GB memory
Continuous recording up to 190 hours with CR2450 battery (included)
Continuous recording / Voice Activation System (VAS) recording / Timer recording
Linear and circular record modes
Payback via PC (Windows XP, Vista, 7, 8)
Built in Date and Timestamp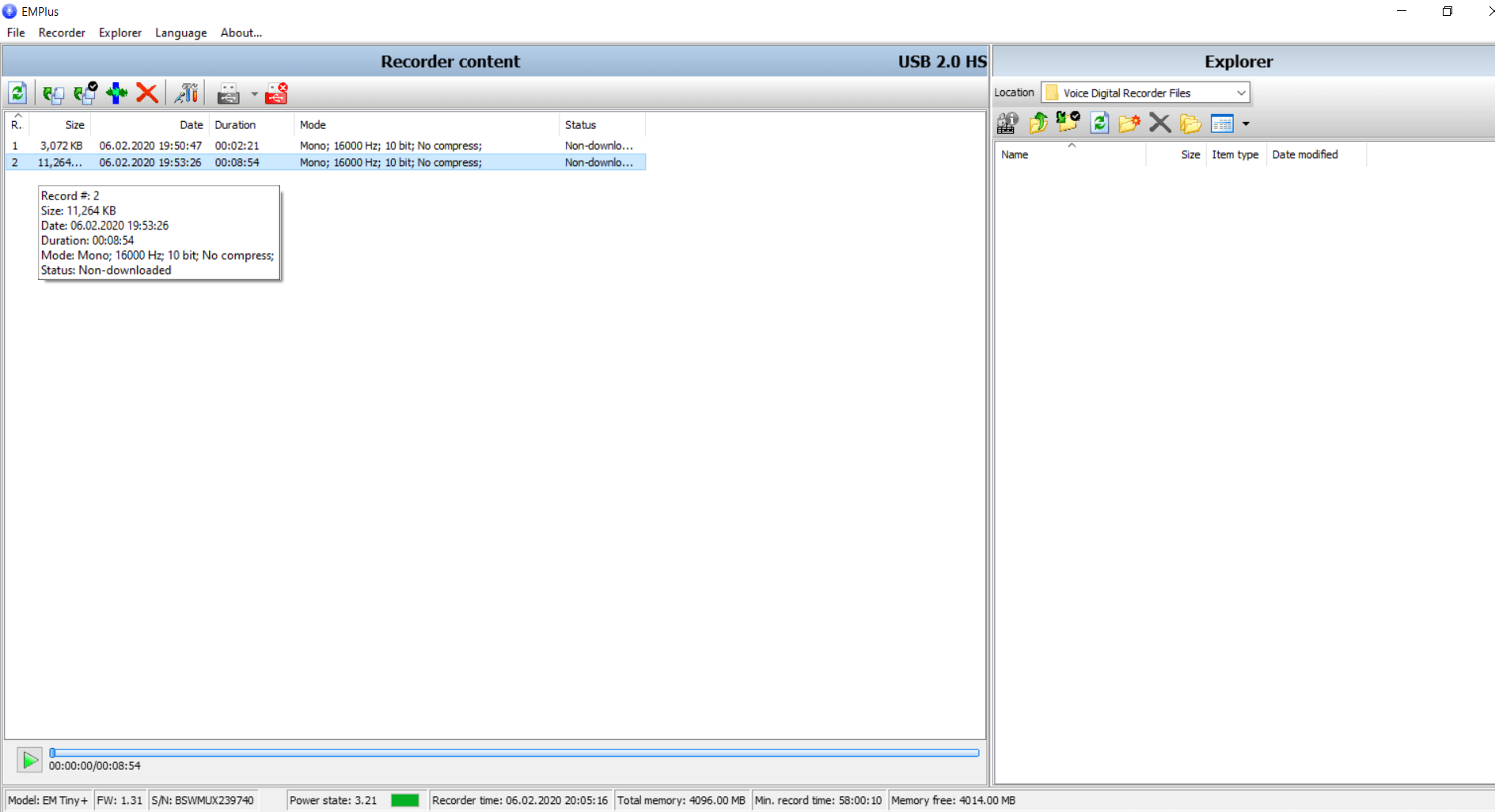 EMPlus Software available on the B80 and ready to install once you connect the device to your PC. Here is an example of the inteface with files view.
Edic mini Tiny Plus B80 Full Specifications:
Height: 48 mm
Width: 32 mm
Thickness: 7 mm
Weight: 10 g (without battery)
Case: Metal
Record time: (memory capacity in hours): 150h
Battery life in record mode: up to 190 h
Power supply: CR2450 battery
Battery life in VAS mode (acoustic signal below the threshold): up to 500 h
Battery life in standby mode: up to 60 month
Built-in microphone sensitivityup to 12 m
Built-in flash memory: 4 GB
Interface: USB 2.0
Audio Codec: 10 bit
Audio recording mode: Mono
Recording format: WAV
Compression method: without compression, uLaw
Frequency band: 100 Hz - 10kHz
Dynamic range: -65 dB
Sample rate: 8, 11, 16, 22
Controls: switch
Indication of operation: LED
Voice Activating System: YES
Timer recording: YES
How to use the Edic-mini Tiny+ B80:
Switch the Power On/Of switch to On. The recording starts automatically
Connect the device to the PC via the USB 2.0 that arrives with the accessories
The EMPlus software is already on the device and ready to install.
Manage your files and the device via the EMPlus
Package contents:
Audio recorder
USB 2.0 adapter
CR2450 battery
Instructions
Note:
For more details regarding the setup of the device and configuration of the software, please consult the PDF files available for download below.
24 Months Warranty