The VTech Thermal Camera for face recognition and temperature detection, is a new AI-based system that quickly and efficiently scans and detects individuals with elevated body temperature.
The device allows the user to accurately identify individuals with elevated body temperature, as well as to recognise if the user is waring a mask or not. High body temperature is an indicator of a potentially infectious desease like the current COVID-19, or the H1N1, and other types of influenza viruses.
The Access Control Thermal Camera can be used in a multitude of ways and places. From facilities with a high degree of people circulation to crowded places; Supermarkets, Offices, Hotels, Hospitals, Banks, Airports, Schools & Universities, Housing estates, Factories, Subways, Cruise ships, Industrial parks, etc.
The device can be set up as a desktop camera, a gate type camera, and it can be mounted onto a wall. This permits the device to adapt to the individual facility parameters; for example as access control in subways, or a sign-in system in hospitals. This adds to the safety regulations for pandemic prevention and contorl.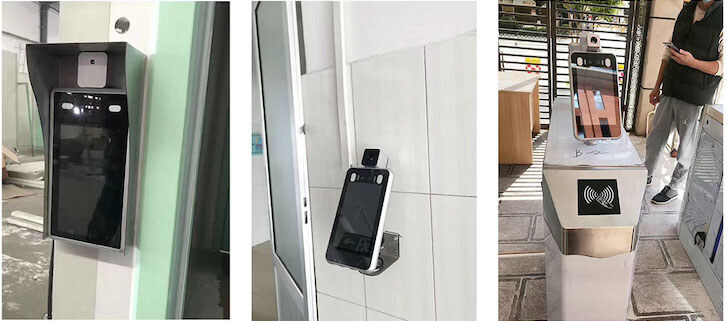 Thermal Camera Main Features:
7-inch IPS HD display
Dual WDR Full HD 1080P 2 Megapixel Sony Camera
22400 faces in the comparison library and 100,000 faces in the recognition records
Real-time monitoring via PC or laptop
Great min. illumination provides accurate measurements in low light circumstances Color 0.01Lux; B/W 0.001Lux
Measures the temperature from 30 to 45 (°C), with an accuracy of ± 0.5 (°C)
Temperature response time of <500ms
Real-time voice warning of high temperature
10 Languages available (English, German, Italian,French, Chinese, Japanese, Korean, Portuguese, Russian and Spanish)
Thermal Camera T5 Full Specifications:
Chipset: Hi3516DV300
System: Linux operation system
RAM: 16G EMMC
Image sensor: 1/2.7" CMOS
Lens: 4.5mm
Camera: Binocular camera supports live detection
Effective pixel: 2Mega pixel, 1080P
Min. lux: Color 0.01Lux @F1.2(ICR);B/W 0.001Lux @F1.2
SNR: ≥50db(AGC OFF)
WDR: ≥80db
Height: 1.2-2.2 M, angle adjustable
Distance: 0.5-2 Meters
View angle: Vertical ±40 degree
Recording Time: <500ms
Function: Supports 22400 faces database and 100000 records
Range: 30-45(°C)
Accuracy: ±0.5(°C)
Distance: 40 cm
Response time: <500ms
Internet interface: RJ45 10M/100M Ethernet
Weigand port: Support input/output 26 and 34
Alarm output: 1channel relay output
USB port: 1USB port (Can be connected to ID identifier)
Power input: DC 12V/3A
Power consumption: 20W(MAX)
Working temperature: -15°C ~ +60°C
Humidity: 5~90%, no condense
Dimension: 123.5(W) * 84(H) *361.3(L)mm
Weight: 1.9 kg
Column aperture: 33mm
Usage: Indoor
VTech T5 Temperature (Thermal) Camera Feature Focus
The Camera
The device has an integrated Full HD 1080P 2 Megapixel Sony Camera with dual WDR for live scanning of people and different body shape detection. It also provides great detection and results in circumstances of very little light; Color 0.01Lux @F1.2(ICR);B/W 0.001Lux @F1.2.
Measurement capacity
The Access Control Camera performs high-precision scanning of the human face in <500ms, it can recognize if the person is wearing a mask, and identify the person with and without a mask. At the same time, it performs infrared temperature acquisition. The device measures the temperature from 30 to 45 (°C), with an accuracy of ± 0.5 (°C).
Interface and operation
The device comes with a 7-inch IPS HD display, offers multi-interface protocols (SDK & HTTP), for various platforms (Linux, Windows). It allows real-time monitoring via the PC and comes with an App.
It allows the benefit of automatic operation with no manual intervention needed, which makes it secure and efficient for everyday use by a large number of people.
The comparison library allows for 22400 faces to be stored, and the faces recognition record supports up to 100.000 faces. The real-time high-temperature warning and live electronic voice broadcast add to the quick and automatic operation and smooth flow of a large number of people.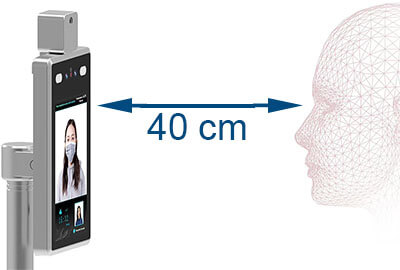 Setup
The device can be set-up in a multitude of ways; tripod, gate control, sign-in system, desktop setup - thus adapting to the individual business needs, the public sector needs, and enables ease of crow management and control. It is a step towards the usual people migration and flow, especially as the COVID-19 situation is ongoing.
Note:
PDF Specifications and Product Catalogue as well as detailed setup instructions available for download below. Additional setup documentation available upon order.

Warranty 12 Months