The PV-IP6HDi is a 2017 edition of the iPhone 6 battery case DVR by Lawmate that comes with a 1/2.9" CMOS camera and records at Full HD 1800p.
The DVR has multiple recording options, that way you can choose between continuous recording, motion detection and overwrite function. You can also decide to record just on the SD card, over the Wi-Fi connection, or to setup the IP connection. Alongside the video recording and resolution options, you can take snapshots via the App or manually on the device itself.
The files can be retrieved from the SD card to your PC or downloaded from the PV Cam App on your iOS/Android smartphone. It offers good low light recording at 0.1 Lux, and allows approx. 300 min recording time at Full HD (16 GB SD card).
As most devices meant for the law enforcement industry, the DVR comes with the timestamp function.
The iPhone 6S is slightly different in size than the iPhone 6, however LawMate tested it, and both fit in the PV-IP6HDi case.
Comes with a 16 GB SD card, and supports up to 32 GB SD cards.
LawMate PV-IP6HDi Main Features:
IP-based iPhone 6 battery case DVR
PV Cam APP allows you to stream live view on your iOS/Android smartphone around the world
1/2.9" CMOS camera
1080p/720p/480p @30fps
Continuous & Motion Detection mode
0.1 Lux @ F2.0 low light sensitivity
Power from battery or power socket
Supports up to 32GB MicroSD card
300 minutes recording time with overwrite function
LawMate PV-IP6HDi Full Specifications
Built-in image sensor: 1/3" progressive CMOS sensor
Sensor resolution: 2304x1536
Sensor sensitivity: 3.3 Lux @ F 2.0
Lens F/No.: F 3.2
Focal Length: 4mm
Angle of View: 66°
Algorithm: H.264, JPEG
File Format: MOV, JPG
Video recording mode: Auto/Manual/Motion Detection
Recording Capability: 1920*1080, 1280*720, 848*480
Frame rate: Up to 30 fps
Photo Capability(APP): 2M(1920*1080)
WIFI Built-in WiFi Module: (IEEE 802.11b/g/n)
Wifi Protocol: RTSP
Memory type Micro SD Card: ( Support SDHC max. 32GB)
Data interface: Mini USB 2.0
Date/Time Table: YYYY/MM/DD, HH:MM:SS
Snapshot: recording and playback video
Power Input: DC 5V
Power Consumption: 450mA-500mA(WIFI OFF)(WIFI ON+60mA)
Charging Time: 120 min (1100mA)
Battery Input: DC 3.7V / 1400 mA high polymers battery(XK733648)
Recording time: 30Omin @ 1920*1080 resolution (16GB SD card)
Dimension 142*71*18 mm
Weight 92 g
Battery Lifetime:
135min(1080P / WIFI OFF / LED OFF)
130min(1080P / WIFI OFF / LED ON)
120min(1080P / WIFI ON / LED OFF)
115min(1080P / WIFI ON / LED ON)
150min(720P / WIFI OFF / LED OFF)
145min(720P / WIFI OFF / LED ON)
135min(720P / WIFI ON / LED OFF)
130min(720P / WIFI ON / LED ON)
165min(WVGA / WIFI OFF / LED OFF)
160min(WVGA / WIFI OFF / LED ON)
150min(WVGA / WIFI ON / LED OFF)
145min(WVGA / WIFI ON / LED ON)
PV-IP6HDi Feature Focus:

IP connection
The PV-IP6HDi comes from the Lawmate IP products that features IP connection. The device is set up through the PV-CAM App and connects to a nearby router. Once the device is connected it can be accessed from anywhere in the world using the same App.
It is no longer required to be close to the actual recorder in order to access the live stream. Limitations when it comes to quality of video stream from 3G devices and obvious restrictions of 1.2 and 2.4 GHz video transmitters when it comes to distance and regulatory requirements are no longer present.
All that is needed to for a clear Full HD stream of the video is a Wi-Fi enabled router nearby the device and an Internet connection on your Android or iOS device on the receiving end.
Wi-Fi for ease of use
A simple Wi-Fi connection from your smartphone enables the review and setup as well as time/data stamp synchronisation and firmware updates.
It is no longer necessary to bring a separate LCD monitor to fully setup and review the recorded video neither is a nearby laptop necessary to perform time/date and firmware updates. Everything you need to fully use the PV-IP6HDi fits inside your pocket.
PV-CAM iOS and Android apps for PV-IP6HDi: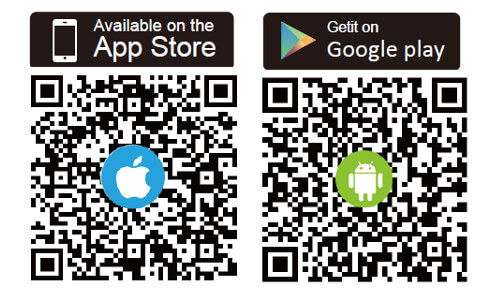 Google Play link: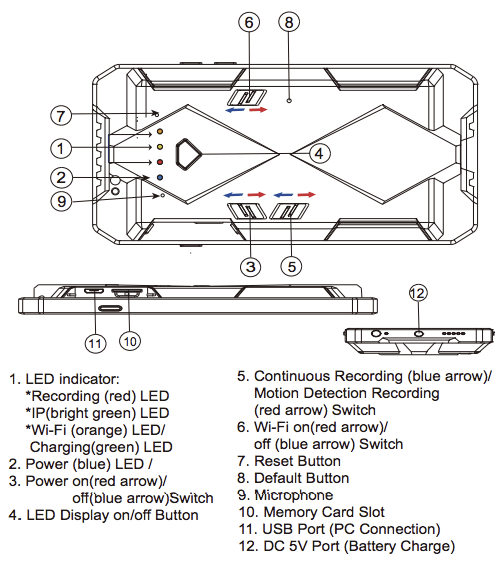 PV-IP6HDi Illustration from Quick Manual - Name and Parts
How to start using the device:
Press (4) to display the LED indicators first, then, slide down (3) to power on the device. When the power is on, device starts to record automatically.
While recording, slide down (5) to change the recording mode to motion detection, or slide up to change to continuous recording.
While the device is powered on slide down (6) to turno on the Wi-Fi function. For more info on the setup of the Wi-Fi / IP connection please consult the IP guide below.
Note:
It is very important to enter the exact same router name as stated on your device when configuring it in the App.
For detailed instructions on the P2P / IP connection and setup, please carefully study the IP Cam Manual and Quick Guide below.
Important IP setup Tip - Obligatory deleting of the device from the Device Management section of the App if you wish to switch phones. Otherwise, the device will be linked to the phone via the server and you will not be able to connect to the IP via other smartphone/s.
24 Months Warranty.