Lawmate PV-DY10i Hidden Camera & Portable Wi-Fi & IP DVR Module.
The DVR module comes with a 3 MP CMOS camera, has up to 1080 P resolution, and IP / P2P connectivity.
It is powered from the battery, and the accessories include a BA-2200 mAh batterie that lasts for 3-4 h of continuous recording, as well as the PI-RF50TX Remote Controller. The module can be charged by using the USB cable.
Furthermore, the DIY module has multiple operating modes; Auto/Manual/Motion Detection and vibration alerts.


---
Se siete nostri clienti italiani si può visitare il nostro sito Lawmate dedicato al cliente italiano e conoscere meglio Lawmate
PV-DY10i
in italiano.
Für deutschsprachige Kunden - Sie können unsere Lawmate-Website für deutschsprachige Kunden besuchen und mehr über den
PV-DY10i
in Ihrer Muttersprache erfahren.
---


PV-DY10i Main Features:
Make your own hidden camera with this tiny DVR
3MP Camera with 1/3" progressive CMOS sensor
1080p / 720p / WVGA @30 fps Resolution Options
IP/P2P connection enables streaming and live view all over the world
Connects to PV Cam App Viewer on your smartphone
Compatible with Lawmate PI-RF50TX Remote Controller
Recording time up to 300 mins with @ 1920*1080 resolution on 16 GB SD card
Vibration Alert for Power on/off, Recording & Low battery
Powered by battery
PV-DY10i Full Specifications
Built-in image sensor: 1/3" progressive CMOS sensor
Sensor resolution: 2304*1536
Sensor sensitivity: 3.3 Lux @ F 2.0
Lens F/No.: F 3.2
Focal Length: 4mm
Angle of View: 66°
Algorithm: H.264, JPEG
File Format: MOV, JPG
Video recording mode: Auto/Manual/Motion Detection
Recording Capability: 1920*1080, 1280*720, 848*480
Frame rate: Up to 30 fps
Photo Capability(APP): 2M (1920*1080)
WiFi: Built-in WiFi Module(IEEE 802.11b/g/n)
Wifi Protocol: RTSP
Memory type: Micro SD Card (Supports SDHC max= 32GB)
Data interface: Mini USB 2.0
Date/Time Table: YYYY/MM/DD, HH:MM:SS
Power Input: DC 5V
Power Consumption: 450mA-500mA(WIFI OFF) (WIFI ON+60mA)
Standby Consumption: 8-8.5mA
Charging Time: 240 min(800mA)
Recording time 300min @ 1920*1080 resolution (16GB SD card)
Vibration Alert Power on/off, Recording, Low battery
Operating temperature: -5 degrees Celsius to 60 degrees Celsius
Dimensions: 7cm*4cm*1cm
Battery Input DC 3.7V / 2200 mA Lithium battery
180min(1080P / WIFI ON)
210min(1080P / WIFI OFF)
195min(720P / WIFI ON)
225min(720P / WIFI OFF)
210min(WVGA / WIFI ON)
240min(WVGA / WIFI OFF)

PV-CAM iOS and Android apps for PV-DY10i: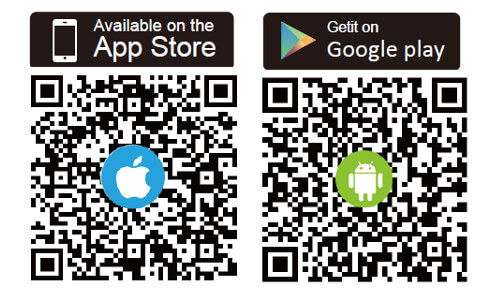 Google Play link:
https://play.google.com/store/apps/details?id=cam.ac.com
App Store link:
https://itunes.apple.com/us/app/pv-cam-viewer/id986625862?mt=8
Note:
It is very important to enter the exact same router name as stated on your device when configuring it in the App.
For more info and setup instructions, please carefully study the PDF specifications and manuals below.
Important IP setup Tip - Obligatory deleting of the device from the Device Management section of the App if you wish to switch phones. Otherwise, the device will be linked to the phone via the server and you will not be able to connect to the IP via other smartphone/s.

24 Months Warranty