The Lawmate GPS-DLG10 GPS Data Logger is a water resistant, passive data logging GPS that can be placed under a vehicle.
It is small sized, records the speed and height of routes the vehicle is taking, and comes with a software that offers multiple information display options - from speed and elevation charts to tracking options.
The GPS Logger comes with a 8 GB SD card, and supports up to 8 GB cards, which allows a large amount of data to be stored. It has a built-in battery with 20 hours of recording capacity and uses Google earth mapping.
The software is easy to install and intuitive to operate. The files can be exported to .CSV or .KML.
It can not be detected with GPS scanners.
GPS-DLG10 Main Features:
Magnetic - water resistant holder/mount for vehicles
Small sized - credit card size
Records speed and height of the routes
Comes with an 8 GB SD Card
Supports up to 8 GB SD Cards - stores a large amount of data
Built-in Battery - 20 hours battery lifetime
Speed dependable and a dynamic logging frequency
Simple to operate and view files via PC
Export to .CSV or .KML option
GPS-DLG10 Specificatons:
Item Number: GPS-DLG10
Charging Current: 400mA
Operation Current: 1mA ~40mA
Tracking Sensitivity: -165 dBm
Operating Temperature: 0 ~ 60°C
Battery Lifetime: 20 hours
Storage Capacity: Supports up to 8G memory card
Feature Focus of the GPS Logger:
The logger software provides you with a variety of map options, that way your work is coordinated with your optimal viewing and operating options:
Standard map and satellite map exchange
Zoom in & Zoom Out function
Quick View Zones for your data
Chart - Open/Close speed and Elevation chart
Trace - Open/Close the trace line
Speed nt exchange: mph or km/h
MSL meter
Data point speed
ODO: Total odometer
Trip - Distance between two data points
Additional options regarding map and trip navigation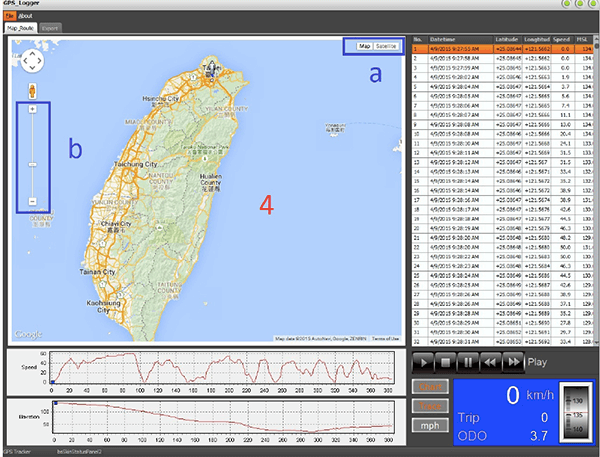 >>>Example of Data point information zone from User Manual<<<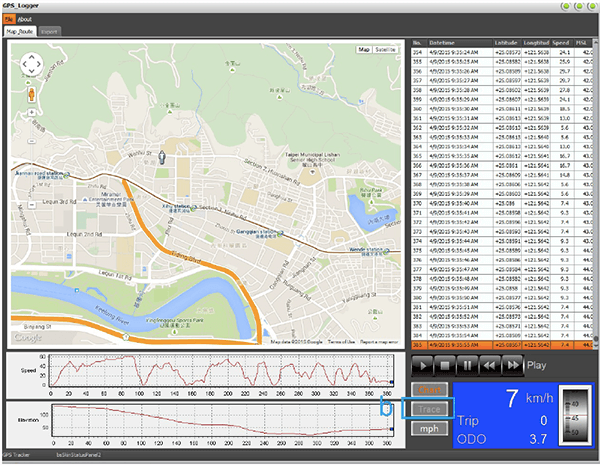 >>>Example of Tracing line option from User Manual<<<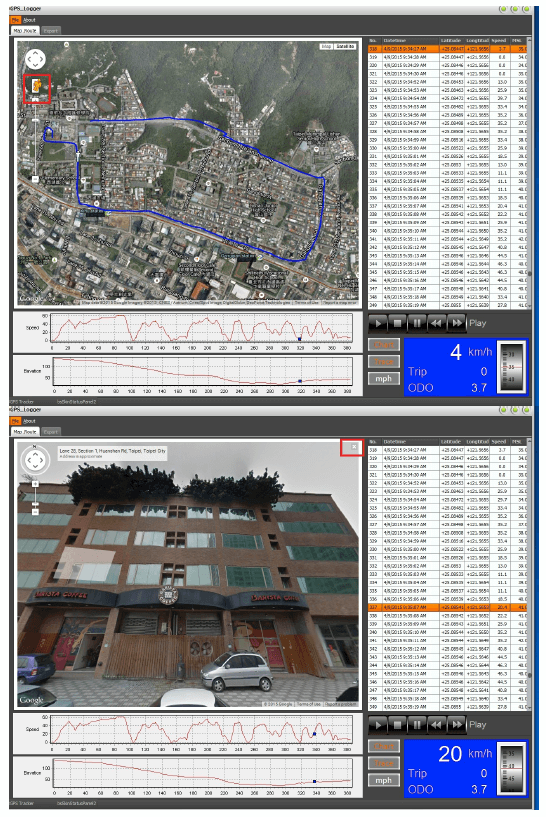 >>>Example of Viewing Options from User Manual<<<
Note:
For detailed instructions regarding the usage and setup of the GPS Logger, please carefully follow the User Manual below.
24 Months Warranty