Lawmate BU-18 HD is a new 1080P digital camera that offers clear Full HD video recordings and good low light sensitvity.
New flat and round add-on for the camera as well as integrated microphone offers additional convenience with installation.
Specifically designed for PV-500 HDW. Not compatible with previous Lawmate DVR models.



---




Se siete nostri clienti italiani si può visitare il nostro sito Lawmate dedicato al cliente italiano e conoscere meglio Lawmate

BU-18HD

in italiano.

Für deutschsprachige Kunden - Sie können unsere Lawmate-Website für deutschsprachige Kunden besuchen und mehr über den

BU-18HD

in Ihrer Muttersprache erfahren.
---
BU-18 HD Main features:
High quality 2000 X 1121 Sensor resolution
1080P digital resolution (sent to DVR)
Good low light sensitivity
Small size, easier to fit
New!! 145 cm one piece cable
New!! flat lens cover part of standard accessories
New!! Coveret mic. inside camera case
>>In order to accurately judge the quality of the video please choose 1080P in your video player.<<

Full BU-18HD specifications:
Built in Image Sensor 1/2.9" progressive CMOS Sensor
Sensor Resolution 2000x1121
Pixel Size 2.8um(H) * 2.8um(V)
Digital Picture Resolution (H)1920x(V)1080
Sensor Sensitivity 0.03 Lux @ F 2.0
Lens F/No. F2.0
Focal Length 4.3mm
Angle of view 78°
Depth of View 50 cm ~ ∞
Electronic Shutter 1/8 ~ 1/30,000
Video Output I2C Data
Power Supply Current 220mA
Operating Temperature -10℃ ~ 60℃
Operating Humidity 20 ~ 90%
Storage Temperature -30℃ ~ 80℃
Power Input DC 3.3V± 5%
Dimension 25x25x17mm
Weight 18g
BU-18HD feature focus:
Flat lens cover
Aside from standard button and screws adaptations to pinhole cameras, Lawmate has engineered Flat round lens cover that makes it very easy to apply the camera to flat surfaces.
Flat lens cover can be applied with 3M tape two-sided stickers that come with the camera or alternatively it can be nailed / screwed down,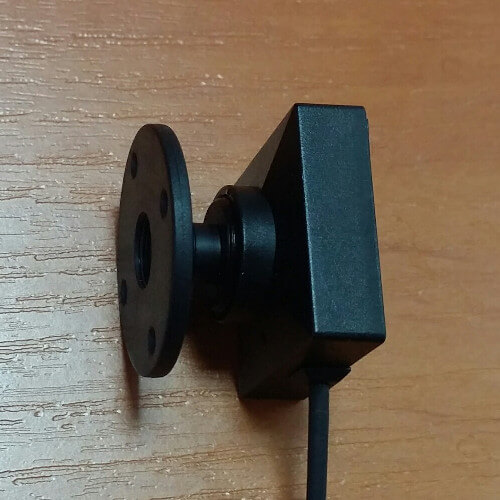 Flat lens cover applied to BU-18HD
>>In order to accurately judge the quality of the video please choose 1080P in your video player.<<

Notes:
Feel free to download BU-18HD specifications in PDF format below.
24 months warranty