The GSM Door/Window Sensor lets you know if someone opened a door or window. It has a build in magnetic sensor switch as well as a Tamper sensor (if burger tried to disable the device), and communicates via radio channel with the device it is set-up to.
When it is triggered it sends an SMS Notification or makes a call to the associated mobile phone.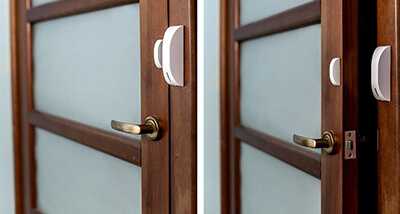 GSM Door/Window Sensor Detector Features:
Can be installed wherever a GSM reception is available
Arms via a keychain magnet or an optional external button switch, (button switch is not included in the package)
Disarms via Mobile Phone
Automatically arms itself again to "On Guard" mode after a triggered Alarm
The settings can be programmed in multiple ways: via mobile phone, via online service or Android/iOS applications (links are provided below)
Powered by a 3 volt CR123 lithium battery for up to 12 months
Power saving economy mode option available by disabling SMS armed/ disarmed notifications
It is designed to operate indoors and to detect 24/7 unauthorized opening of the protected door/s or window/s
Auto-requests remaining Security Alarm Sensor SIM card balance, and transmits an SMS to the primary notification telephone number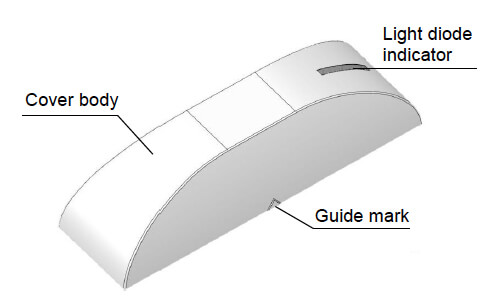 Illustration from User Manual
GSM Door/Window Sensor Detector Full Specifications:
Gap (between the Security Alarm Sensor & Magnet) at which an Active "Notdelay" or an "Alarm" signal is generated: more (than) 8mm
Distance at which a "Normal" signal is restored: less (than) 6mm
Radio signal operating range; "line of sight": 100m
Operating distance between keychain Magnet and Alarm Sensor Device, not to exceed: 10mm
GSM Module Operating Standards: GSM-800/900/1800/1900
Quantity of telephones to be notified: up to 6
Time lapse for notification: 20-40 seconds
Battery type: CR123A 3v
Uninterrupted operating life span using one battery at a temperature of +25C: up to 12 months
Temperature operating range: from -10 to +50 C
Enclosure durability level: IP40
Relative operating humidity @ +35c without condensation, not to exceed: 93%
Alarm Sensor Device size & dimensions do not exceed: 109*32*27.5 mm
Magnet size & dimensions, do not exceed 56.5*18*15.7 mm
Alarm Sensor Device weight (w/ battery): 60 gAlarm Magnet weight: 10 g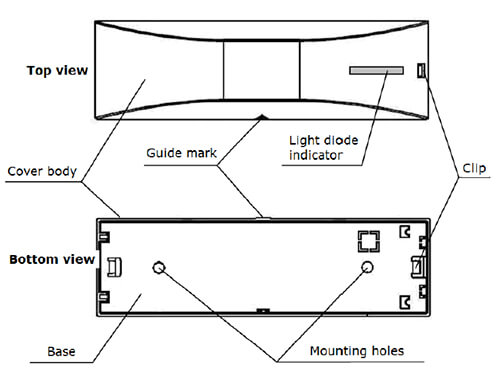 Illustration from User Manual
The GSM Door/Window Sensor Detector supports the following operational modes:
Programming
Disarmed
ArmDelay
Armed "On Guard"
Active "AutoArm" Delay
Alarm
Standby "NotDelay"
Feature Focus
GSM Doow/Window Sensor Detector SMS Notifications:
The GSM Door/Window Sensor Detector sends armed/disarmed status SMS Notifications to the primary set-up mobile phone number, as well as to the other registered phones. The primary number will also receive a notification report on the selected settings, and Test/status SMS notifications showing the remaining SIM card balance. Test/status SMS notifications are sent depending on the selected interval. The interval time reference point starts with the receipt of the settings notification.
When an "Alarm" is triggered, the Security Alarm Sensor will transmit SMS notification, make a call to the primary registered number and then make calls to the remaining numbers together with transmitting SMS notifications.
The Security Alarm Sensor stops calling one number and continues to call the next number under the following conditions:

When the subscriber does not pick-up within 30 seconds
When the subscriber's line is busy
When the subscriber is not connected to a network
Calling out will stop after one of the user numbers picks up and/or disconnects. If that happens the Security Alarm Sensor will transmit Alarm notifications to the secondary phone
numbers.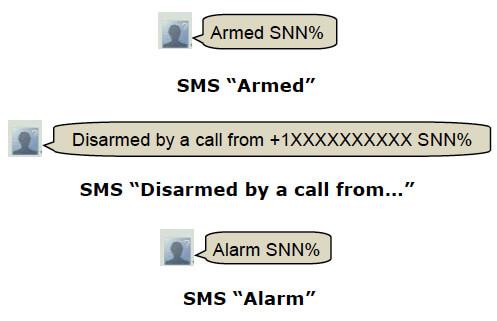 Example of SMS Armed/Disarm/Alarm notifications
Notes:
For detailed instructions on how to set-up the sensor, add telephone numbers, make adjustments and configurations, please consult the PDF file below.
24 months warranty.