Lawmate PV-1000EVO3 is the new Wi-Fi DVR that has a 5 inch TFT LCD touch screen, comes in Full HD 1080P and offers 1 TB SATA HDD with SD Card.
The DVR is still in production.
It offers
dual Audio A/V output for analogue cameras
(
BU-19
) with
5V and 12V
. It also has the
digital camera option
with the new reinforced
locking din plug
(military standard). And for all those that work in media, it has the HDMI TV output option as well.
The DVR is Wi-Fi enabled meaning that you can download the PV Cam App on your smartphone and live view or download the Video and Snapshots, as well as change the settings of the device via your smartphone.
The recording modes are Standard and Motion detection.The PV-1000EVO3 supports both NTSC (720*480 @30 FPS) and PAL (720*576 @25 FPS) standards. Along the integrated 1 TB memory, you have the 32 GB SD card support that can go up to 128 GB if you format the card to FAT 32 exFAT.
PV-1000EVO3 Main features:
Wi-Fi Enabled
Integrated 1 TB SATA HDD and SD Card Support
Has a 5 Inch 800*480 Color TFT LCD
Recording resolution of up to 1080p
Digital Camera In
5V and 12V powered Analog Camera Support
Compatible with Lawmate BU-19 analog camera
Integrated 4400ma BA-4400 Battery
Multiple resolutions and adjustable FPS: @25 PAL & @30FPS NTSC
Standard and Motion Detection Recording mode
PV-1000EVO3 Full Specifications:
Item Number: PV-1000EVO3
Display: 5" RGB 800*480 Color TFT LCD, the LCD display G-sensor
The touch panel: Capacitive touch panel
Algorithm: H.264, JPEG
File format: Mp4
Video input: Digital camera signal 1080P BT 656 input
NTSC / PAL Auto-Detection (2.5)
NTSC / PAL Auto-Detection (3.5)
Video Recording Mode: 1920*1080 Real Time
Max. Resolution: 1080P (1920*1080)
Frame Rate: 30FPS & 25 FPS
Memory Type: Built in 2.5" 1 TB SATA HDD & SD Card (Supports up to 32 GB / 128 GB (FAT 32 exFAT))
DC5V to Camera: DC5V 250mA Max (Over current protection)
DC12V 150mA Max (Over current protection)
HDMI out: HDMI image output
PC Interface: USB 2.0
Image Quality (Bit rate): In Standard 720*576 @25 FPS (PAL) 720*480 @30 FPS (NTSC), 1080P (12 Mbps)
Wi-Fi: Built-in Wi-Fi Module / 802.11B/G/N. Support WPA2-PSK encryption
RF Remote: Support
Date Time Table: YYYY/MM/DD (America), HH,MM,SS (U.K.)
Frame Counter Stamp: Yes
Power Consumption: Recording: 1.5 A (Wi-Fi Off)
Charging Current: 1.5A
Battery Type: DC 3.7V/4400 mA Lithium Battery
Battery Lifetime: 170 min (BU-19 PAL 5V) / 120 min (BU-19 12V) / 120 min (BU-20LUX) for HDD
PV-CAM iOS and Android apps for Lawmate Wi-Fi recorders: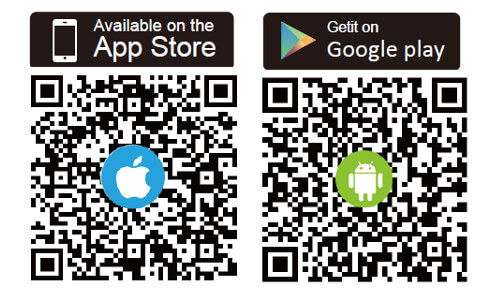 Google play link:
App Store link:
Feature Focus:
Built-in Wi-Fi Module - Once you establish a connection between your smartphone and the PV-1000EVO3, you can remotely change the settings of the device, or download the needed files on your phone. That is especially useful if you need to remotely format the SD card no matter the reason. Also, you can monitor the live feed and take snapshots.
5" Touch Screen - Although the device has the option to monitor the live feed via your smartphone, you have the additional option to monitor the feed on the LCD screen and adjust the settings (NTSC, PAL, resolution, FPS, Timestamp etc).
5V and 12V Analogue and 3.7V Digital Camera Support - Lawmate PV-1000EVO3 supports and powers analog and digital cameras. On the recorder there are available 5V & 12V 2.5 inch analogue and digital dim plug jack.
Most other cameras will work with the PV-1000EVO3 Touch but will not be powered - This is due to the current lack of a digital video camera standard across the brands. As for our other products, you can see the compatible cameras on this page, an in the related section below. It is not compatible with HDMI and USB cameras from previous Lawmate models.
Compatible with the cable controller - Control without touching the DVR and operate the PV-1000EVO3 up to 10 meters away. The controls follow Lawmate's known user experience - with the - Power/Wi-Fi/Record button - design.
Note:
For more information on the setting up of the DVR and Wi-Fi option please study the PDF files available for download below. The quick manual and PDF specifications will be available as soon as the DVR is released. Updates will be available here on this page.