The Lawmate PV-IP7HDi iPhone 7 battery case DVR comes with a sensor resolution of 2304*1536, thus produces Full HD 1080p videos and photos.
Like the new iPhone 6 model, this DVR has multiple recording modes, from auto, manual to motion detection. The video and picture resolution is adjustable, and the device can be manipulated as well as set up via the PV Cam App that also offers remote monitoring via your iPhone, or downloading of the videos and pictures.

Comes with the timestamp that is of great value for law enforcement professionals.
It offers 300 min of recording time @ Full HD resolution on the 16 GB SD card that is part of the standard accessories. Supports up to 32 GB SD cards.
Lawmate PV-IP7HDi Full Specifications
Built-in image sensor: 1/3" progressive CMOS sensor
Sensor resolution: 2304*1536
Sensor sensitivity: 3.3 Lux @ F 2.0
Lens F/No.: F 3.2
Focal Length: 4mm
Angle of View: 66°
Algorithm : H.264, JPEG
File Format : MOV, JPG
Video recording mode: Auto/Manual/Motion Detection
Recoreding Capability: 1920*1080, 1280*720, 848*480
Frame rate : Up to 30 fps
Photo Capability(APP): 2M(1920*1080)
WIFI: Built-in WiFi Module(IEEE 802.11b/g/n)
Wifi Protocol: RTSP
Memory type: Micro SD Card ( Support SDHC max=32GB)
Data interface: Mini USB 2.0
Date/Time Table: YYYY/MM/DD, HH:MM:SS
Snapshot: Recording and playback video
Power Input: DC 5V
Power Consuption: 450mA-500mA(WIFI OFF)(WIFI ON+60mA)
Charging Time: 120 min(1100mA)
Battery Input: DC 3.7V / 1200 mA high polymers battery(XK704041)
Dimension: 139*69*16 mm
Weight: 0.09 kg


Battery Lifetime:
120min(1080P / WIFI OFF / LED OFF)
115min(1080P / WIFI OFF / LED ON)
105min(1080P / WIFI ON / LED OFF)
100min(1080P / WIFI ON / LED ON)
135min(720P / WIFI OFF / LED OFF)
130min(720P / WIFI OFF / LED ON)
120min(720P / WIFI ON / LED OFF)
115min(720P / WIFI ON / LED ON)
150min(WVGA / WIFI OFF / LED OFF)
145min(WVGA / WIFI OFF / LED ON)
135min(WVGA / WIFI ON / LED OFF)
130min(WVGA / WIFI ON / LED ON)
Recording time: 300 min @ 1920x1080 resolution ( 16GB SD card )
PV-IP7HDi Feature Focus:
IP connection
The PV-IP7HDi comes from the Lawmate IP products that features IP connection. The device is set up through the PV-CAM App and connects to a nearby router. Once the device is connected it can be accessed from anywhere in the world using the same App.
It is no longer required to be close to the actual recorder in order to access the live stream. Limitations when it comes to quality of video stream from 3G devices and obvious restrictions of 1.2 and 2.4 GHz video transmitters when it comes to distance and regulatory requirements are no longer present.
All that is needed for a clear Full HD stream of the video is a Wi-Fi enabled router nearby the device and an Internet connection on your Android or iOS device on the receiving end.
Wi-Fi for ease of use
A simple Wi-Fi connection from your smartphone enables the review and setup as well as time/date stamp synchronization and firmware updates.
It is no longer necessary to bring a separate LCD monitor to fully setup and review the recorded video neither is a nearby laptop necessary to perform time/date and firmware updates. Everything you need to fully use the PV-IP7HDi fits inside your pocket.
PV-CAM iOS and Android apps for PV-IP7HDi: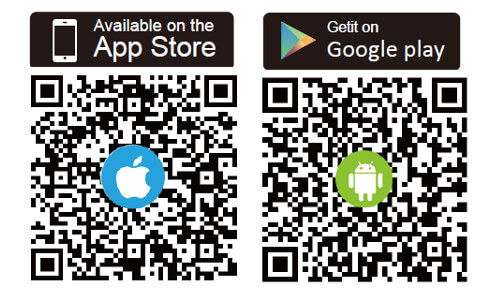 Google Play link:
https://play.google.com/store/apps/details?id=cam.ac.com
Important IP setup Tip - Obligatory deleting of the device from the Device Management section of the App if you wish to switch phones. Otherwise, the device will be linked to the phone via the server and you will not be able to connect to the IP via other smartphone/s.

24 Months Warranty.