The PV-500L3 Combo is a new Summer 2016 Edition of the bestseller PV-500L3 and the new BU-19 camera, that comes with a Min. Illumination of 0.005 Lux/30 IRE @F1.2. - you will be able to record in low light circumstances where other cameras produce only a dark picture.
The PV-500L3
has a 3" 960*480 LCD Touchscreen, high quality 720*576 recording resolution @30 FPS, and a built in AGC microphone. It comes with multi speed playback options, as well as motion detect, normal & overwrite modes.
Read more...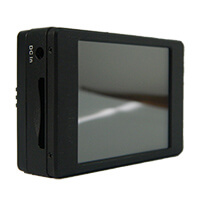 The BU-19 Button Camera
comes with a 700 TV Lines Resolution, Min. Illumination of
0.005 Lux/30 IRE @F1.2
, and an Angle of View of 78 degrees. Furthermore it has the CCD Image Sensor - Interline 1/3'' SONY SUPER HAD CCD.
Read more...