The PV-1000Touch5U DVR
-
Integrated 500 GB SATA HDD with a 800*480 touch screen and a recording resolution up to 1080p.
The device has a 5V & 12V powered camera support and integrated 4400ma BA-4400slim battery.
It comes with multiple resolutions and adjustable FPS, recording modes and multiple levels of password protection.
Read more...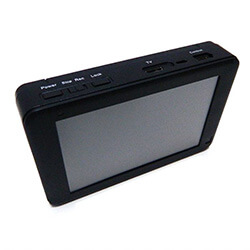 The BU-19 (PAL) Camera
- with the best min. Illumination so far of 0.005 Lux/30 IRE @F1.2 it will record in low light circumstances where other cameras produce only a dark picture. The high performance 1/3 inch SONY SUPER HAD CCD series sensor makes the resolution to 700 TV lines.
Read more...