Lawmate PV-900 HD is a mini digital audio/video recorder with built-in hidden camera.
Out of Stock and Production.
News on a new model will be available here on our website, as soon as it is announced.
In the meantime you can take a look at our other covert equipment in the IP, Wi-Fi and Mini DVR sections.
The outer design perfectly conceals its actual use. Recording tasks can also be performed when the cell-phone seems turned off or in standby mode. The concealed menu can only be called out by pushing a series of combination keys while recording can be started by a simple click on the side
New HD version includes Pre-event recording option, 1280*960 resolution, adjustable FPS and low lux camera.
Comes with integrated microphone & audio recording (all LM DVRs that can be bought in our store record audio).
Lawmate Cellphone DVR supports multiple recording modes - Manual/Auto/Motion Detect/Schedule/Pre-Event for use in different scenarios and environments. When connected to the CM-EP10 earphone CMOS camera or other compatible Lawmate it acts as a DVR.
PV-900HD Main Features:
One click on the side button starts the recording
Multiple recording modes - Auto/Manual/Motion and Detection/Pre-event/Schedule
Can work in low light conditions
Snap-shot function available
The SD card support and USB cable connection make it easy to manage your files
It is compatible with Lawmate equipment and can act as a digital video recorder when combined
The screen has a disguise function in order for it to seem as if it is off while recording.
PV-900 HD Product Specifications:
Recording Capability:640 * 480 @ 60fps,max res. up to 1280X960, 1-30 adjustable FPS.
Angle of View: 78 Degrees
CCD Resolution: 1200 * 800
CCD Sensitivity: 0.2 Lux F2.0
Display: 2.4 TFT LCD
Memory Type: Micro SD Card (Supports SDHC up to 32GB)
Battery Lifetime:150 Minutes continuous recording
Dimension: 110 * 54 * 23 mm
Weight: 90 g
PV-900 HD modes of outside covert look:
1. Normal Screen when Recording 2. Disguise Screen off 3. Power on Disguise Display
The Lawmate CM-EP10 Earphone Type CCD Camera is the perfect covert device for the 21. century user.
It is quite common for people to listen music on their mp3s, iPods or smartphones so a CM-EP10 covert camera easily fits in the environment.
It's compatible with various Lawmate DVR's, but the Lawmate PV-900HD Cellphone DVR camera is the perfect fit.
CM-EP10 Product Specifications:
Item Number: CM-EP10
Video System: NTSC & PAL
Picture Element: 640 x 480
Resolution (H): 480 TV Lines
Image Sensor: CMOS 1/4 inch
S/N Ratio: 50 dB
MIN Illumination: 3 Lux / 30 IRE @ F2.0
Video Output: 1.0V p-p Composite at 75 ohm
Audio Output: 2Vp-p(MAX) 10KHz ohms Impedance
MIC Sensitivity: Yes
Lens: 3.59 mm
Angle of View: 66.5 Degrees
Power Supply Voltage: DC 5V
Power Supply Current: 130 mA
Operation Tempareture: -10~50
Storage Temperature: -10~50
Dimensions (Incld Lens): 23(W)x26(H)x18(T) mm
Weight: 25 g
CM-EP10 Product Features:
Combined with a digital picture resolution of 640*480 this min spy camera lets you get clear images in high quality
It is compatible with a wide range of devices due to it's power and cable accessories
It is able to work with any regular AV device as it comes with standard Audio & Video output protocol
*The light comes from a small window, no additional light source.
CM-EP10 How To Wear Illustration (from quick manual):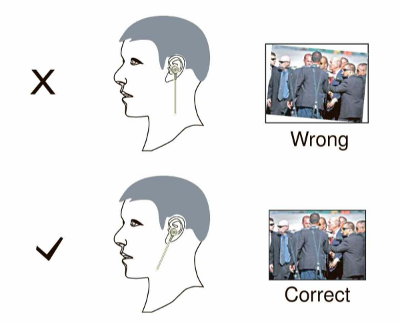 How to use CM-EP10?
Connect the earphones to a the PV-900 HD DVR
Turn on the DVR
Make sure that the plugs are placed so the wire does not fall vertically from your ears
Keep in mind that the position of the camera will be from your ears outwards
Start recording
Note:
The Lawmate CM-EP10 Earphone Type CCD Camera is compatible with Lawmate's DVRs that accept analog cameras.
For further details regarding the operation of Lawmate PV-900HD Cellphone DVR & CM-EP10 Earphone Type CCD Camera KIT please consult the quick guide below.
24 months warranty.